Democratic presidential candidate Hillary Clinton retracted statements she made earlier this week suggesting that FBI Director James Comey had said that all her comments on her use of a private email server were "truthful."
Clinton had said in an interview with "Fox News Sunday" on July 31 that Comey said she did not mislead the public.
"Director Comey said my answers were truthful and consistent," Clinton said about her previous claims of not mishandling emails in the interview.
Speaking at an event with the National Association of Black Journalists and the National Association of Hispanic Journalists in Washington D.C. on Friday, Clinton walked back those comments, saying that she was only referring to her testimony to the FBI.
"I was pointing out in both of those instances that Director Comey has said that my answers in my FBI interview were truthful," Clinton said at the event on Friday. "I may have short-circuited it, and for that I will try to clarify."
Clinton said that what she had told the FBI was consistent with what she has publicly said.
"What I told the FBI, which he said was truthful, is consistent with what I have said publicly," said Clinton.
Clinton maintained publicly while the FBI investigation was ongoing that she never sent or received anything by email—for which she used a private email server during her tenure as secretary of state—that was marked classified. 
FBI Director James Comey, however, contradicted Clinton's statement in July when announcing the results of the FBI investigation saying that the bureau had found 110 emails in 52 email chains that contained classified information at the time of sending. Eight email chains were deemed "top secret," 36 "secret," and eight "confidential" at the time of sending, said Comey.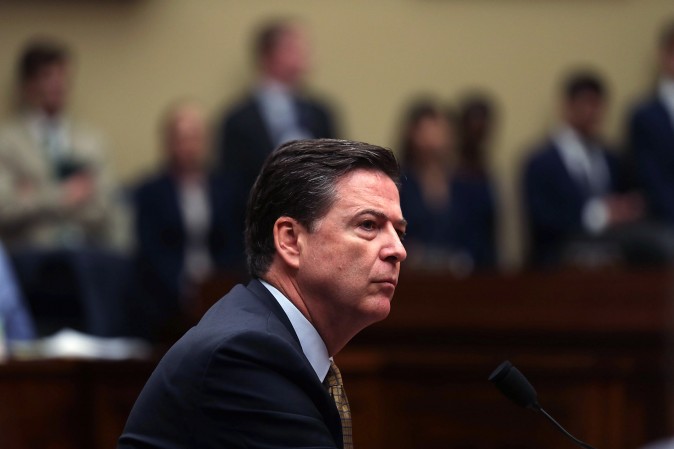 "I sent over 30,000 emails to the State Department that were work related emails. Director Comey said that only 3 out of 30,000 had anything resembling classified markers," Clinton said on Friday. 
Clinton's statement contradicts that of Comey. He had said that there were only three emails containing classified information that were not marked properly as classified. At the time, Comey did say that Clinton may not have been "sophisticated" enough to understand classified markings within an email. The policy requires an email header to contain classified markings and any paragraphs within the email also need the marking: (C).
Related Coverage
When announcing the FBI's findings in July, Comey also criticized Clinton and her staff for being "extremely careless" in their handling of the classified information. However, he said that the FBI did not find "clear evidence" that Clinton "intended" to violate laws governing the handling of classified information.
Comey said at a congressional hearing last month that Clinton did not lie under oath to the FBI, but he could not answer whether she lied to the American people when she said in February that she never sent or received any classified material.