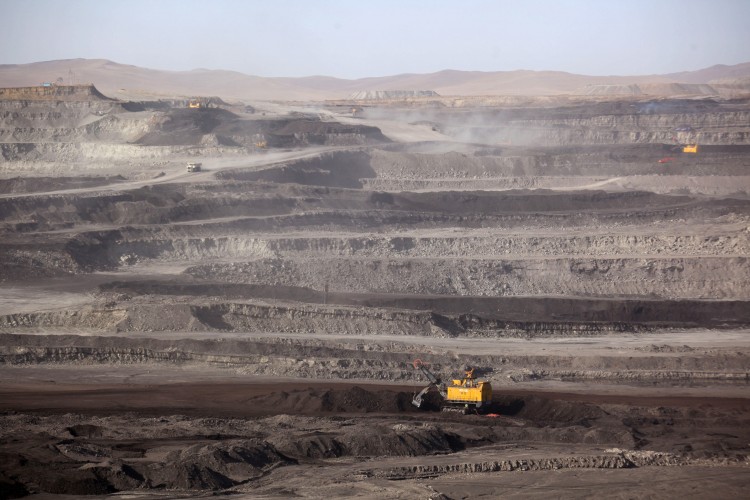 A list of 14 planned natural gas, oil, and coal energy projects around the world would raise global carbon emissions by 20 percent and create "climate chaos" that would see global temperatures rise, according to a recent study from Greenpeace.
The environmental group said said that the 14 projects include the proposed massive expansion of coal mining in China—which is already the world's largest consumer of coal—as well as "the development of risky unconventional sources of oil in the tar sands of Canada."
In total the 14 projects around the world would add an annual 6.34 billion tons of carbon dioxide into the atmosphere by 2020 if the projects go ahead as scheduled, said Greenpeace, which used an analysis from the U.K.-based consultancy firm Ecofys.
China's five northwestern provinces will be the largest contributors to global carbon emissions by greatly expanding on coal production and burning, Greenpeace said.
The country will likely produce 620 million metric tons of coal by 2015 and will generate another 1,400 million metric tons of carbon dioxide per year, which is "almost equal to Russia's emissions in 2010," Greenpeace said in its report.
This month, dense smog lingered over Beijing and other Chinese cities, causing a public uproar, with many blaming the pollution on Chinese coal plants.
"The lion's share of the new emissions from the 14 dirty energy projects would come from the expansion of coal mining and burning. Coal burned to produce electricity already pumps more [carbon dioxide] into the atmosphere than any other source of conventional power," the study said.
Greenpeace said that all 14 projects essentially undermine efforts and progress made in stemming carbon emissions around the world, saying that the world's average temperature will rise by as much as 5 to 6 degrees Celsius (1.8 degrees Fahrenheit) by the end of the century.
"We are running out of time to prevent catastrophic climate change," Greenpeace International Executive Director Kumi Naidoo told Bloomberg News Tuesday. "The companies promoting, and the governments allowing, these massive climate threats must replace them with renewable energy right away."
The study said Australia would increase coal exports to 408 million metric tons a year by 2025, producing some 1,200 million metric tons of carbon dioxide. Meanwhile, the United States plans to export around 235.6 million tons (190 million metric tons) of coal a year, adding around 520.8 million tons (420 million metric tons) of carbon dioxide per year.
Canada, Indonesia, Brazil, Venezuela, Kazakhstan, Iraq, and Central Asian states will also ramp up their fossil fuel production in the same timeframe, the group said.