More than 50 protesters from the eco-activist group Insulate Britain (IB) blocked the M25 motorway at the exit leading to the Heathrow Airport on Monday morning.
It's the group's sixth roadblock in two weeks. The group, an offshoot of Extinction Rebellion (XR), is calling on the government to insulate homes across the UK to help cut carbon emissions.
The Metropolitan Police said just after 11 a.m. that officers had cleared the road and that 53 individuals were arrested and taken into custody.
The Met said some of the protesters used super glue to frustrate the police response.
The protest came after two injunctions were granted against the group's controversial tactics.
After IB activists ran in front of moving cars and lorries on the same motorway on Sept. 21, the government secured a high court injunction (pdf) that threatens imprisonment, fines, or asset seizure for activities such as blocking the M25 or affixing oneself to any other person or object on the motorway—tactics typical of both IB and XR.
Another injunction was granted to protect the A20 in Kent after the group blocked the road to the Port of Dover on Friday.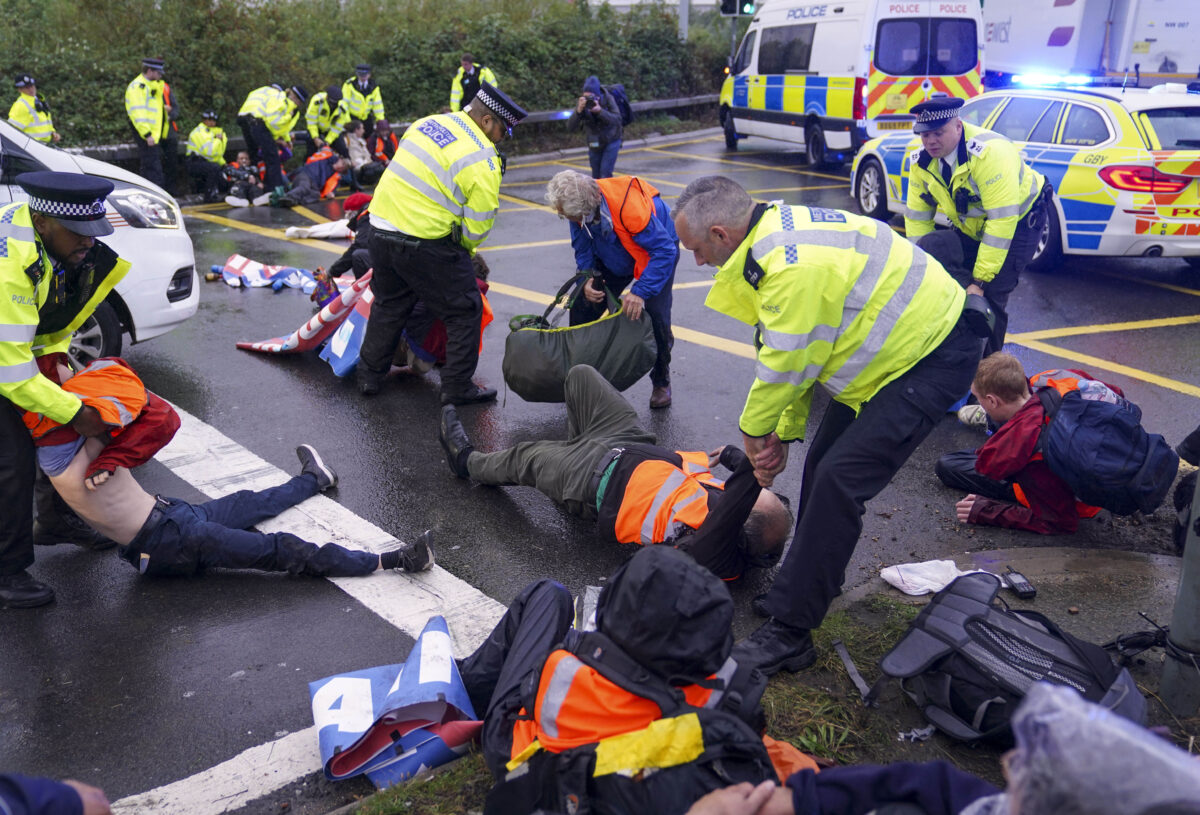 The activists were apologetic over their actions but insisted they were determined to keep going.
Dr. Diana Warner, 62, a retired GP from Bristol who is a member of the group, said she was "determined to do everything she could" to force change.
"I'm here because of desperation, it's not an easy thing to do," she told the PA news agency.
Warner said it was the fifth time she had been trying to block a motorway because she believes disrupting things is "the only way to get the government to listen."
"I'm really sorry, but I'm determined to do everything I can to make us safe and change society … we have to try," she added.
After having been placed under caution, spokesperson Liam Norton said the activists "fully understand that this is affecting ordinary people."
"But if this crisis isn't dealt with then within a few decades it's going to really disrupt this country," he told PA.
"We'd just like to express to ordinary people that we're trying to protect this society of ours that we live in."
After being told by the group about their environmental concerns for the future, one motorist replied: "I've got to feed my kids now, I need my money now, to feed my kids now, but you don't get that.
"You don't get it. If you did, you wouldn't be blocking normal people like me, trying to get to work to feed my kids," the motorist added.
"You're ridiculous—go somewhere else and stop stopping people going to work."
IB's website states that it demands the UK government immediately promise "to fully fund and take responsibility for the insulation of all social housing in Britain by 2025;" and "to produce within four months a legally binding national plan to fully fund and take responsibility for the full low-energy and low-carbon whole-house retrofit, with no externalised costs, of all homes in Britain by 2030 as part of a just transition to full decarbonisation of all parts of society and the economy."
It also stated that the demand means that "1.5 homes per minute" will have to be retrofitted by the year 2050.
PA contributed to this report.