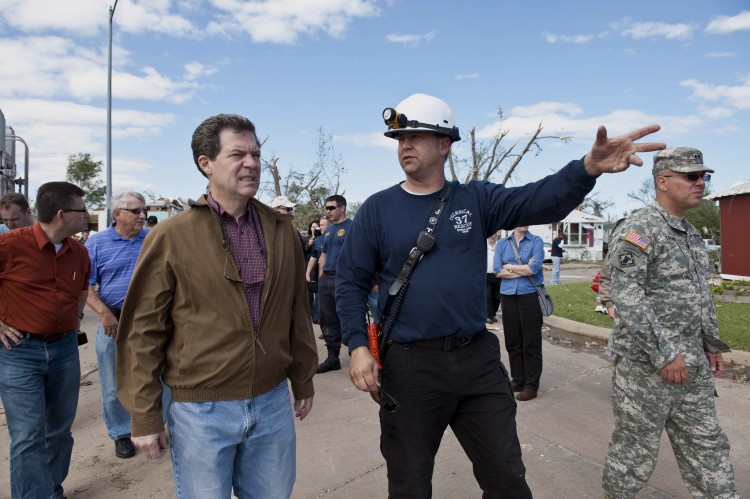 The Midwest is digging itself out from damage caused by a series of more than 100 tornadoes that tore through the region over the weekend, leaving six dead and 30 injured. The deadliest of the storms hit in Woodward, Okla., where all six deaths occurred.
Despite the loss of life, which included two children, an early warning from the federal government's Storm Prediction Center is being credited with averting a worse disaster. The Center called the storms "a particularly dangerous situation."
Frank Strait, senior meteorologist with Accuweather, said there is no doubt that tornado warnings save lives and saved lives in this past weekend's Midwest tornado outbreak. "People who get those warnings in advance and put themselves in an area where they can't be hurt, I'm certain that it does save lives."
He said the warning system starts with the National Weather Service. "They can see the rotation. You can tell when one is about to occur."
Meteorologists can track the rotating winds with radar, and "we also have storm chasers out here in the Plains." They report exactly where a tornado has formed. "They certainly help because they can report the exact spot. Some have a financial interest. They can sell pictures."
Some are a little shady or irresponsible and put themselves in harm's way, yet they can be considered a helpful part of the tornado warning system, according to Strait.
Sirens help warn people, and media plays a big part, Strait said. Warnings from television and radio help people know when to take shelter.
"The main thing is the Weather Service radar," he said.
Until 1950, the Weather Bureau was not allowed to use the word tornado in a weather warning. The idea was that the word might cause panic, according to the National Weather Service, which is the successor to the Weather Bureau.
"[What's] amazing is that we had as much warning as we did," said Kansas Gov. Sam Brownback while making comments on camera to the media outlets that were posted online.
According to Accuweather, hail ranging from 3 inches to the size of a softball fell in Nebraska, Illinois, Oklahoma, and Kansas during the storms, damaging vehicles and buildings.
The Oklahoma Red Cross chapter, which estimates more than 600 homes were impacted in four counties, is continuing to run shelter services for those in need. The organization's website asks for those who want to help to donate money instead of goods.
The Oklahoma Department of Health is warning residents to be careful while cleaning up damage to houses, buildings, and other areas. The Department is urging precautions such as a current tetanus shot, use of heavy gloves and other protective gear, and caution when using generators and chainsaws. Carbon monoxide poisoning is also a risk for residents without power who are using generators.