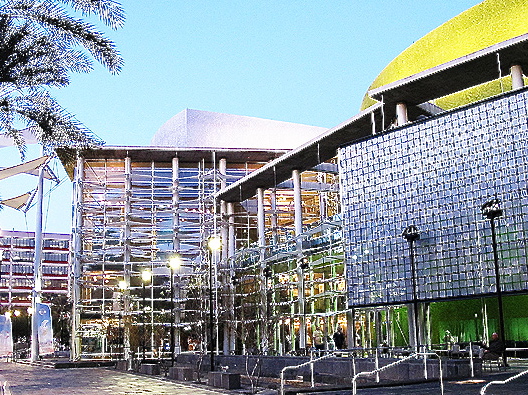 MESA, Ariz.—Radio host Janine Miller and her husband Bernard Miller attended the March 2 evening performance of Shen Yun at the Ikeda Theater in the Mesa Arts Center.
"We liked it very much," said Mrs. Miller, who works at a classical music radio station. She and her husband frequent cultural events. They often attend ballet, symphony and orchestra performances.
She also appreciated the spiritual aspect of the show. "I think all religions should have freedom," said Mrs. Miller.
"China's three religions of Confucianism, Buddhism, and Taoism have been the bedrock of 5,000 years of Chinese civilization," according to the Shen Yun website. Modern China under the rule of the communist party is officially an atheist regime, and religions are suppressed.
Shen Yun is on a mission to revive China's ancient and profound culture. Each show comprises several short dance pieces supported by a live orchestra, interspersed with operatic vocal solos.
Classical Chinese dance influenced many cultural expressions over thousands of years of China's civilization, including martial arts, which Mr. Miller picked up on.
"Martial arts and this dance have a lot in common," he said. Mr. Miller studied the traditional martial art Taekwondo, and competed, when he was younger, he said.
The dances When Shaolin Monks Protected the Emperor and Yang Shi and His Sabre both tell classic Chinese stories. In one, "Buddhist monks hone their fighting skills," and in the other "the gallant Yang Shi was an exceptional fighter with a sword that could cut through anything," according to the program.
For Mr. Miller, Shen Yun proved to be a satisfying event. "I enjoyed it," said Mr. Miller. "I think it was worth the time and the money."
Reporting by Flora Ge and Ben Bendig.
New York-based Shen Yun Performing Arts has three touring companies that perform simultaneously around the world. Shen Yun Performing Arts International Company is performing at Popejoy Hall in Albuquerque, New Mexico, March 5–6, and the Orpheum Theatre in Phoenix, Arizona, March 10. For more information, visit ShenYunPerformingArts.org
The Epoch Times publishes in 35
countries and in 21 languages. Subscribe to our e-newsletter.