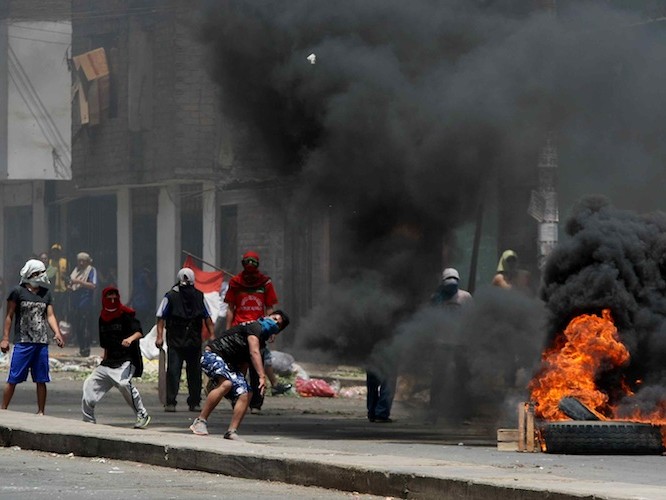 Two people died and more than two dozen were injured as rioters clashed with police in the Peruvian capital of Lima on Saturday in an effort to keep the country's largest wholesale market open.
"One was gunned down and the other was apparently stabbed," Jose Roca, the head of the Dos de Mayo Hospital, was quoted by the EFE news agency as saying.
In the incident, police shot tear gas canisters at protesters, used batons, and arrested 103 people, reported The Associated Press. Police are trying to relocate the market to a less crime-ridden neighborhood.
Susana Villaran, the mayor of Lima, described La Parada as "a world where a lot of people earn a lot of money through criminal acts, control of territory, protection rackets. And they don't want to leave," reported Sky News, citing a local media outlet.
The clashes are a "pre-meditated reaction by hired bands or troublemakers who want to continue ruling their territory outside the law. We are not going to permit that in Lima," she added.
At the same time, around 68 police officers were injured in the melee. Photographs show rioters attacking police with clubs and a police horse being attacked by a rioter armed with a machete.
The violence flared on Thursday after authorities in Lima attempted to stop trucks doing routine pick-ups and drop-offs at the market in La Parada in the La Victoria district, reported EFE.
The Epoch Times publishes in 35 countries and in 19 languages. Subscribe to our e-newsletter.