Clashes between men wearing white shirts and pro-democracy protesters broke out at several Hong Kong metro stations on the night of Sept. 15, capping off the city's 15th weekend of unrest that saw police fire tear gas and water cannons at the demonstrators.
Videos posted online show a group of unmasked men wearing white shirts carrying folding chairs, pipes and other objects and beating black-shirted passengers, some of whom were crouched on the ground, at Fortress Hill metro station.
A large crowd of Fukien thugs attacked civilians in front of Fortress Hill MTR stn. #chinazi #HKPoliceState pic.twitter.com/4RDEf7w1T0

— LO Kin-hei 羅健熙 (@lokinhei) September 15, 2019
The brawl lasted for several minutes before riot police rushed in and separated the two groups, but fist-fights continued outside on the street. Police closed in again and arrested three people, including one person dressed in black, Hong Kong radio broadcaster RTHK reported.
Footage also shows the white-shirted men pushing members of the press on the street. One journalist told the Hong Kong edition of The Epoch Times he was kicked in the thigh by one of the men who demanded that he stop filming the incident.
(15/9, North Point) Suspected Fukien mobsters, armed with sticks and cleavers, attack protesters and journalists, including one of our photographer.
.
Cr: @felix_image at @HK_Imaginaire
.#StandWithHongKong #PoliceState #HongKongProtests #Eye4HK #chinazism #chinazis #antiELAB pic.twitter.com/5aY32ytQMX

— Imaginaire (@HK_Imaginaire) September 15, 2019
A journalist from The Apple Daily said she suffered a minor hand injury after a man struck her hand while trying to snatch her phone away from her, RTHK reported.
According to the Hong Kong-edition of The Epoch Times, the men were overheard speaking Cantonese with a Fukienese accent, prompting many protesters to suspect that have links with the pro-Beijing Fukienese community organizations.
The scenes were reminiscent of a large mob attack that occurred on July 21 in Yuen Long station, where a group of white-shirted thugs suspected of triad-links indiscriminately attacked passengers, many of whom were protesters returning from a demonstration, leading to dozens of injuries. The police arrived some 40 minutes later despite there being a police station nearby.
The police's subdued response to the incident on July 21 has been contrasted with growing instances of alleged police brutality against protesters, causing protesters to voice concerns of discriminatory treatment between pro-democracy protesters and those supporting the Beijing.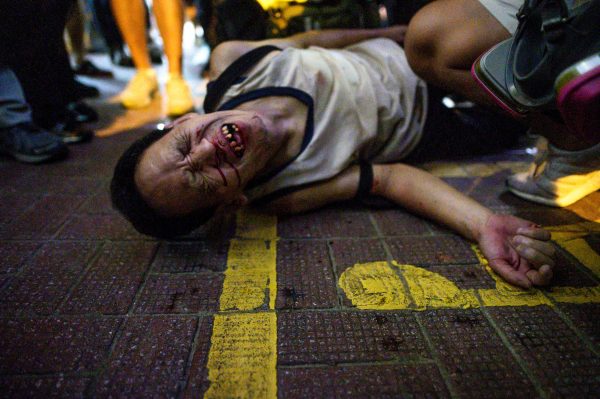 Lo Kin-hei, Vice-Chairman of the Democratic Party, posted a video from the incident outside Fortress Hill station on Twitter on Sept. 15 and wrote:  "Pro-Beijing thugs beat up people and police talk to them nicely, not knocking them down on the floor and kneel on their throats or necks."
Discriminative treatment for those supported @hkpoliceforce. Pro-Beijing thugs beat up people and police talk to them nicely, not knocking them down on the floor and kneel on their throats or necks.

Police colluded obviously with gangs at Yuen Long on 7.21, no police suspended. pic.twitter.com/FZxd6cPHVJ

— LO Kin-hei 羅健熙 (@lokinhei) September 15, 2019
Earlier in the day, police fired water cannons and volleys of tear gas and rubber bullets to disperse protesters after thousands participated in a banned march from Causeway Bay to Central.
Police said protesters hurled petrol bombs at government buildings.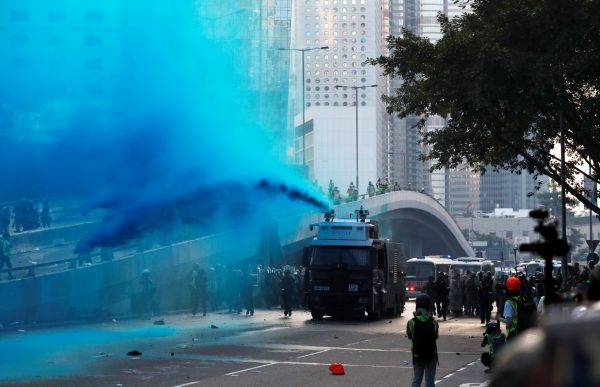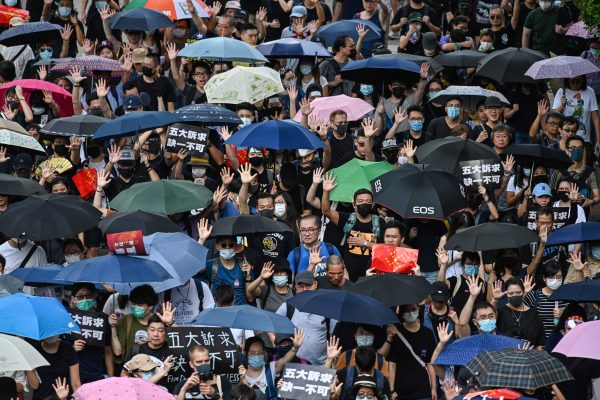 Thousands of protesters, many clad in black masks, caps and shades to obscure their identity, raced through the streets of the financial hub in cat-and-mouse tactics with police, setting street fires and blocking roads in the heart of the city.
On Sept. 14, at least 20 people suffered from injuries during the clashes between protesters and government supporters in various shopping malls, according to RTHK.
Police have arrested around 1,200 people related to the protests since June.