City to Rent Space for Nixed Charter Schools
April 26, 2014 5:00 pm Last Updated: April 27, 2014 5:44 pm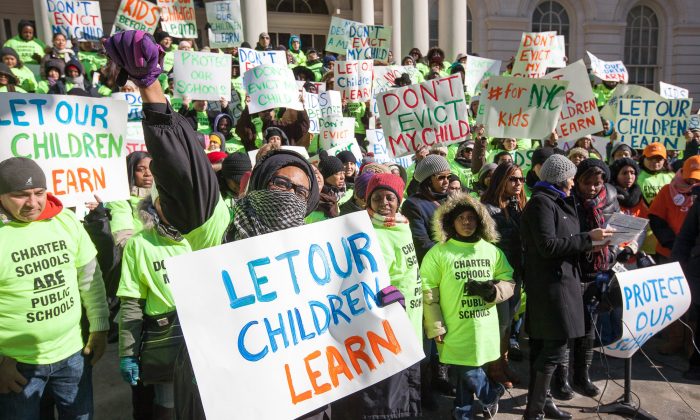 NEW YORK—The city will rent space for three charter schools the administration earlier prevented from moving into public school buildings, Mayor Bill de Blasio's office announced Saturday.
All part of the Success Academy network, the schools have applied last year to share space in public school buildings, so-called co-locations, and have their requests approved in October by the Bloomberg administration.
De Blasio said during his campaign he would review the last slew of some 50 co-locations, because significant parent opposition was ignored.
On Feb. 27 the Education Department nixed nine of them, including the ones for the three charter schools.
In aftermath, charter advocacy organization the Families for Excellent Schools launched media campaign worth at least $4 million saying the mayor is evicting 194 charter school students.
Days after, Gov. Andrew Cuomo and Senate majority leader Dean Skelos publicly endorsed charter schools during a several thousand-strong rally in support of charters on March 4 in Albany.
On April 1 the governor signed this year's budget law that says the New York City charter schools are entitled to free public school space. The city can also choose to rent private space for them. Charter schools would also have to agree with any space changes the city would propose.
The first three charter schools having private space rented for them are: Harlem Success Academy 4, Success Academy Jamaica, and Success Academy City Hall.
In September they will move into spaces of the Annunciation School, 461 West 131st Street, Manhattan St.
Pius X School, 147-65 249th Street, Rosedale,
and Queens Mother Cabrini High School, 701 Fort Washington Avenue, Manhattan.
Lease negotiations are in progress with the three Catholic schools that will provide the space.
Corrections: The article has been updated to correct the name of the organization Families for Excellent Schools. The date of the announcement of the Education Department's co-location reversals and the number of reversals have been corrected. It has also been corrected to reflect that the city can actually choose to rent private space for a charter school that applies for a co-location.