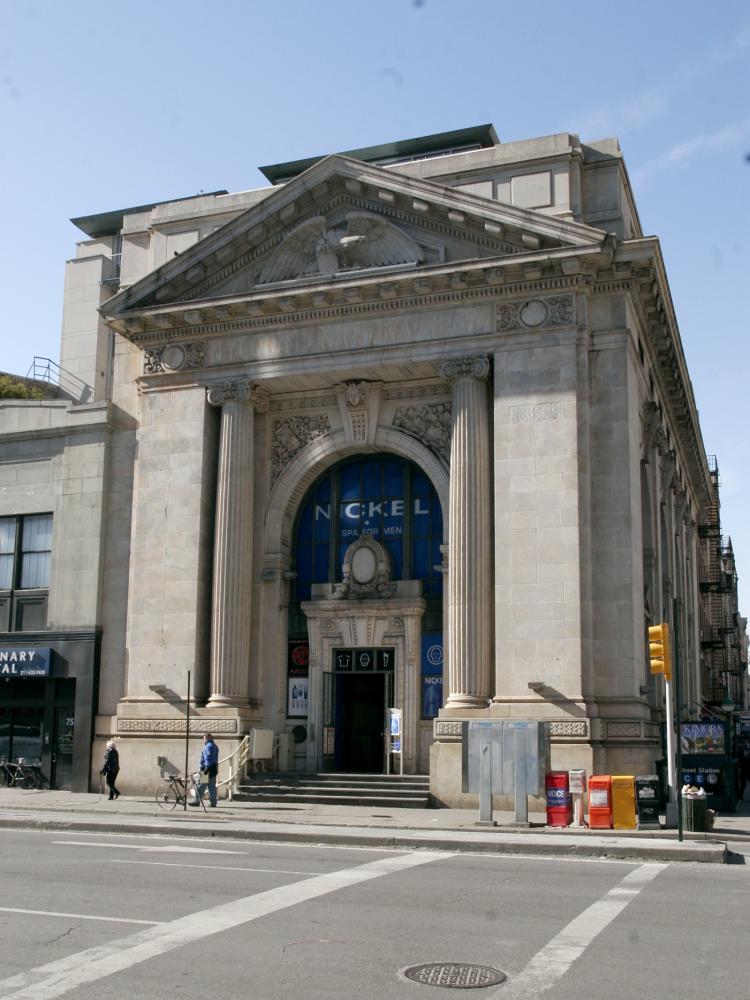 New York County National Bank Building
77-79 Eighth Avenue
Architects: Theodore Wilhelm Emile De Lemos and August Wilhelm Cordes with Rudolph L Daus
Year Completed: 1907
Client: New York County National Bank
NEW YORK—Looking west down 14th Street near the corner of Eighth Avenue one is greeted by a pair of neo-classical structures facing eastward and serving as a gateway from Chelsea to the West Village, and the Hudson River beyond.
On the northwest corner is The New York Savings Bank with its white marble-clad Greek façade, and on the southwest corner, the New York County National Bank Building, the smaller of the two and constructed 38 years after its big brother to the north.
Two massive limestone columns with elegant fluting taper slightly to the spiraling Ionic capitals at their tops frame the front doors of the building. The large, nearly three-dimensional relief sculpture of an eagle, in the pediment above the entry, cranes its neck as it peers north up Eighth Avenue. The curved arch over the doorway reveals ironwork and glass, as do the four identical windows along the building's north façade.
The New York County National Bank changed names several times over the years, becoming The New York County National branch of Manufacturers Trust Co. in the early 1930s, then Manufacturers Hanover Trust in the mid-1960s, and in 1993–1994 Manufacturers Hanover merged with Chemical Bank. After a brief stint as a theater in the mid-90s the building was renovated in 1999 and in 2001 was opened as Nickel, a spa for men.
De Lemos and Cordes also designed the Macy's Herald Square building, constructed five years earlier, as well as the magnificent Siegel Cooper Store on Sixth Avenue between 18th and 19th streets, which now houses retailers Bed Bath and Beyond and Filene's Basement.
The New York County National Bank Building was designated a landmark, as Manufacturers Hanover Trust Company Building, by the New York City Landmarks Preservation Commission in 1988.

Sources: Guide to New York City Landmarks fourth edition, daytoninmanhattan.blogspot.com/