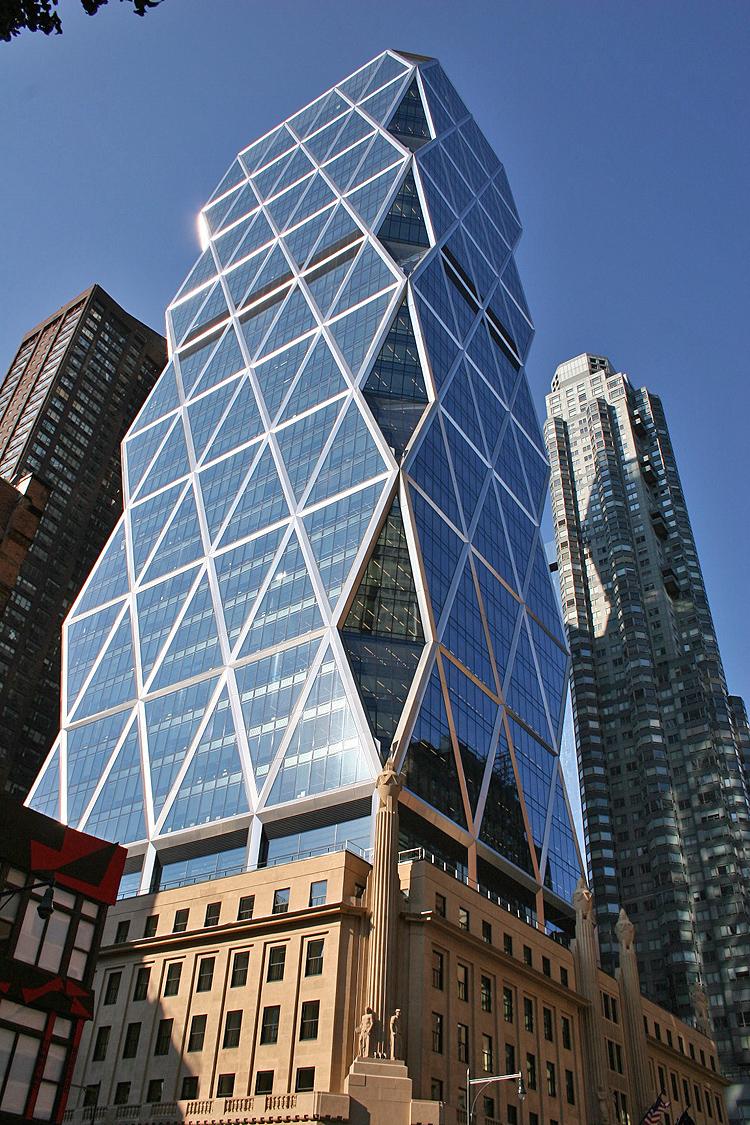 Hearst Tower
300 West 57th Street
Architect: Joseph Urban
(original six-story structure, 1928)
Lord Norman Foster
(46-story tower, 2006)
Year built: 1928 and 2006
NEW YORK—In honor of Earth Day we are looking at one of New York's earliest "green" buildings, the Hearst Tower on Eighth Avenue at 57th Street. The 46-story skyscraper is a building of many "firsts"; it is New York City's first LEED Gold certified building. LEED is an acronym for Leadership in Energy & Environmental Design, an internationally recognized "green" building certification system. It is the first tower to commence construction after the 9/11 terrorist attacks, and the first building in New York City by renowned British architect Lord Norman Foster. The Hearst Tower is also the first 21st century NYC landmarked building.
In 1926 publisher William Randolph Hearst commissioned Austrian scenic artist and architect Joseph Urban to create what was then called the International Magazine Building for the Hearst empire. Urban, with his background in theatrical design, incorporated fluted columns surrounded by allegorical figures representing comedy and tragedy, art, music, industry, sport, the sciences, and of course, printing. Urban's design was intended as a base for a skyscraper. When the depression hit, construction halted; and the building remained a six-story structure for the next 80 years. The original structure was named a New York City landmark by the Landmarks Preservation Commission in 1988.
In 2003 the Hearst Corporation broke ground on a new tower that would preserve the original base structure and soar 46 stories above it in one of the city's most unusual profiles. The diamond grid (or diagrid) steel structure is a one-of-a-kind silhouette among the slender steel and glass towers of midtown. The structural design moved the supporting members to the outside of the building, creating a super-strong structure and saving about 20 percent in materials.
The steel used to build the tower came from 90 percent recycled materials. Other "green" attributes include a 14,000-gallon rooftop water collection system that recycles rainwater for a functional and decorative waterfall in the main lobby that both cools the lobby in the summer and humidifies the air in the winter. The building also uses 26 percent less energy than standard building codes require, resulting in an annual carbon dioxide reduction of 869 tons.
The building is now the home office to 2,000 Hearst employees and many magazines originate there, including Good Housekeeping, O, The Oprah Magazine, Esquire, and Popular Mechanics.
In 2006 the building received the Emporis Skyscraper Award, designating it the best skyscraper completed that year.