NYC Releases New Data to Public
September 23, 2013 9:16 pm Last Updated: September 24, 2013 5:01 pm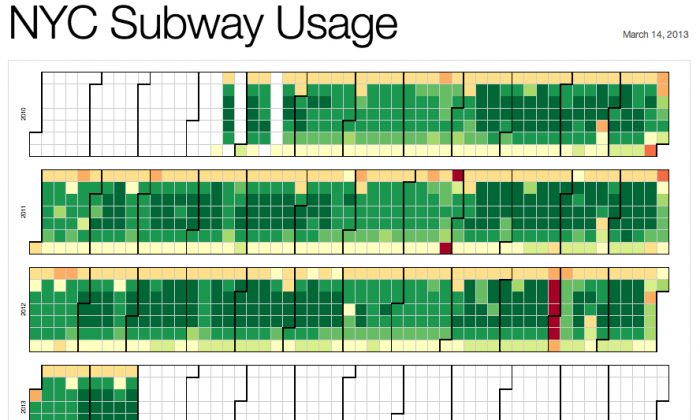 NEW YORK—The city is providing locals with more access to public data than ever before, officials announced Sept. 23.
The data is a treasure for transparency advocates, making it easy to keep tabs on city services such as child welfare indicators, noise complaints, fuel consumption per building, and parking tickets issued.
Since the 2011 launch of the NYC Open Data portal, over 1,100 data sets have been introduced, with over 2.8 million views. In the past, data on city services has been harder for the public to access, either being unavailable, or only available in PDF format.
The digital data makes it easy to search, visualize, and extrapolate data. On Monday, an additional 200 data sets were added.
"It is anywhere from land use to finance to health and building products," said chief information and innovation officer for the city, Rahul N. Merchant.
"This will help the city communities," Merchant said.
"One of the exciting parts of these data sets is to show the innovative ways that it can be used," Council member Gale A. Brewer said.
The data was used recently by developers participating in the NYC BigApps competition.
HealthyOut, an award winner, helps New Yorkers locate the nearest healthy restaurant meals. The app uses restaurant inspection results, and data from the Department of Health and Mental Hygiene, to suggest restaurants that have met food safety regulations. Recently, the app introduced a feature that enables ordering for home delivery.
Another award winner, Ontodia, recently launched a data platform, PediaCities, which uses data from NYC Open Data portal, as well as private and nonprofit sources, to offer information about crime stats, restaurant ratings, grocery store locations, and other statistics that are borough, or neighborhood specific.
Open Platform Officer Michael Flowers said public input is very important. "We get better when you tell us that something is wrong," said Flowers.
"Complaining is a public service," he added.
Public engagement with the data sets has already produced powerful tools like the Google Crisis Map, which helped New Yorkers during Hurricane Sandy. Other uses for the data include finding safe places to live, child care, and understanding the day-to-day work of the city or the neighborhood.
New Yorkers can visit the portal at data.cityofnewyork.us and download their preferred data set in most file formats, including CSV, JSON, PDF, RDF, RSS, XLS, XLSX, and XML.