City Infrastructure Concerns Rise as West Manhattan Expands
April 1, 2014 5:48 pm Last Updated: April 2, 2014 7:34 am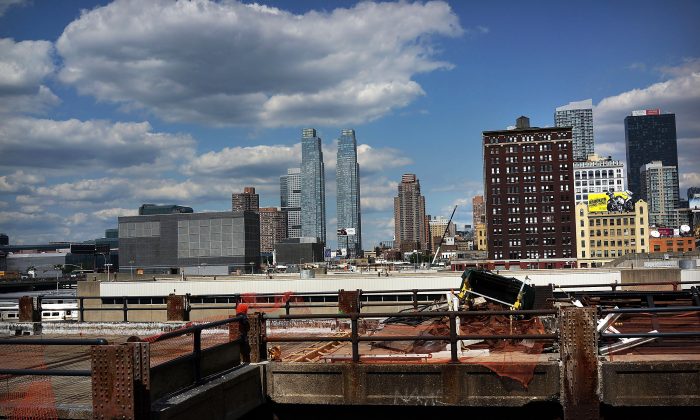 NEW YORK—Tens of thousands of new units are being built on Manhattan's far west side, and officials and researchers say there is not enough infrastructure to support the growing population.
Rezoning at the Hudson Yards will stimulate the building of 20,000 new residential units and 26 million square feet of office space. 
Further north, 4,500 residential units are in development in a 5-block radius in projects like The Durst Organization's Bjarke Ingles pyramid and TF Cornerstone's rental project on 57th Street. 
The Riverside South development above that on the Upper West Side has the capacity for 10,000 new homes.
The influx of residents and commuting workers far outpace the transit options coming to the area, according to a new report by the New York Building Congress (NYBC). Rail connections between New York City and New Jersey haven't expanded for more than a century.
Some solutions are a matter of funding. But other problems occur as a result of poor planning, said Council member Helen Rosenthal at a zoning committee meeting Tuesday.
Transit Megaprojects
The 7-line extension will open late this year, bringing the Flushing Line to 34th Street and 11th Avenue. The $2.4 billion project will add trains to the line and reduce wait time.
NYBC president Richard Anderson says the transit network on the west side is antiquated. He recommends funding for stagnated projects that better utilize three major independent rail operators–Amtrak, New Jersey Transit, and the Long Island Railroad. The commuter rails currently operate at full capacity during rush hours and have no room to expand. 
"Chokepoints in the system, such as the pair of hundred-year-old tunnels under the Hudson, constrain growth," Anderson stated.
NYCB is recommending four core projects to provide the necessary transportation network to and from New Jersey. The mega projects include completing the Moynihan Station, now the Farley Post Office across from Penn Station, to house Amtrak. The report also recommends building Amtrak Gateway, two tunnels under the Hudson River which would add 25 high speed trains to New Jersey.
Creating west side access for Metro North and expanding Penn Station are also among the recommendations. More coordination among different levels of government would be needed to move these projects forward, the report says.
Crowding and Policy
An environmental review addresses concerns of any added population due to a rezoning. The review covers issues like increased traffic, waste management, and air quality.
The Metropolitan Transportation Authority and City Planning Commission led the environmental review for the Hudson Yards rezoning, which included extending the 7-line subway.
In some cases, the reviews don't take other nearby developments into enough consideration, Upper West Side council member Helen Rosenthal said.
In her district, two thousand-unit buildings are in progress overlooking the Hudson River on 57th Street. Unlike Hudson Yards and Riverside South, these buildings were not developed as part of a master plan.
Individually, neither project exceeded the City Environmental Quality Review threshold that would have required mitigation. But put together, Rosenthal said, the bigger picture would have shown a negative environmental impact.
"It leaves the city in a really lousy spot," Rosenthal said. "We don't have a good planning policy for situations like this."
Many of the units being built are bigger, which means they will likely be for families, she explained. There is no new school being planned for that five-block radius, unlike the Hudson Yards and Riverside South neighborhoods that allow for a school to be privately developed and then run by the city.
A similar situation happened in Rosenthal's district years ago and was only recently mitigated after her election. Even then, the situation was not ideal because two middle schools effectively had to be housed in the same building.
"I don't think the city has prepared properly to accommodate … new residents in the area," Rosenthal said.