City Council Initiative Shows Promise in Cancer Prevention
April 29, 2014 8:54 pm Last Updated: April 29, 2014 8:59 pm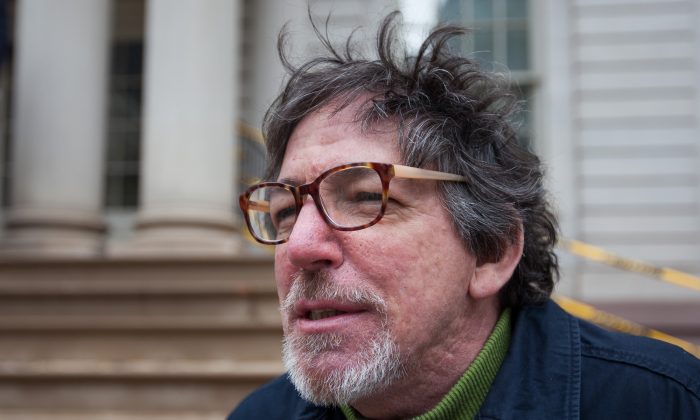 NEW YORK—Michael Caffes owes one to City Council. When he lost his job in 2010, he was left with no health insurance, but he was still able to get his potentially cancerous condition fixed for free, all thanks to a decade-old City Council initiative.
All he had to do was to go through colonoscopy, an unpopular procedure that, nonetheless, can diagnose colon cancer before it develops. And early diagnosis makes a world of difference.
Colon cancer is the second most frequent cancer killer in the city, claiming the lives of 1,380 New Yorkers last year. "If I didn't have that opportunity … It could have turned into something a lot more drastic," Caffes said.
But the condition doesn't have to be fatal. "It's actually one of the only cancers that can be stopped before it starts," said Dr. Clare Bradley, board president of the American Cancer Society, during a Tuesday press conference on the City Hall steps.
Bradley said a five-year survival rate is 90 percent among people who get diagnosed early. And so, she argued, getting people screened may save their lives.
That's why the City Council paid $15 million over the past 12 years for free screenings for the uninsured. The program is run by the cooperation of the American Cancer Society, a volunteer-based health organization, and the city's Health Department. So far it provided over 21,000 colonoscopies, some 4,200 of which led to the removal of polyps that may have developed into cancer.
Since the program serves mainly low-income communities of color, it also helped to eliminate the racial gap for colon cancer screenings, according to Bradley. An almost 20 percent gap that existed in 2003 between whites and blacks and Hispanics disappeared by 2011.
The Uninsured
Caffes is now insured under President Barack Obama's Affordable Care Act. Yet 30 percent of New Yorkers are still not covered. And this reality won't go away just with "Obamacare" on the table, according to Michael Davoli, legislative campaign director of the American Cancer Society.
He said the numbers for uninsured should go down in theory, but "practically speaking, we would definitely have a very large number of New Yorkers that don't have health insurance." The financial support for the screenings, he argued, should therefore continue.
And it is likely the support will continue. "We are pleased to do our part," said City Council Health Committee Chair Corey Johnson, according to a Tuesday press release.