A statue of Winston Churchill in London's Parliament Square was branded with a "racist" label again on Thursday, this time by an environmental activist during the Extinction Rebellion (XR) 10-day protests.
The statue was previously graffitied during a Black Lives Matter protest in June.
During an XR protest on Thursday, an activist sprayed the words "is a racist" in yellow paint onto the plinth of the former prime minister's statue.
The paint had been removed by Thursday, Sadiq Khan, the Mayor of London, said in an update on Twitter, noting that police had arrested a suspect.
Khan said the "appalling vandalism is completely unacceptable."
The Metropolitan Police (MET) on Friday said that the suspect had been charged with criminal damage.
"Benjamin Clark, 18 … is due to appear at Westminster Magistrates' Court on Friday, 9 October," the MET said in a statement.
This is the second time Churchill's statue has been defaced in three months.
In June, a Black Lives Matter sign was taped to the statue, which was also sprayed with graffiti, including the words "was a racist," during one of the protests in the UK ignited by the death in police custody of George Floyd in Minneapolis in the United States.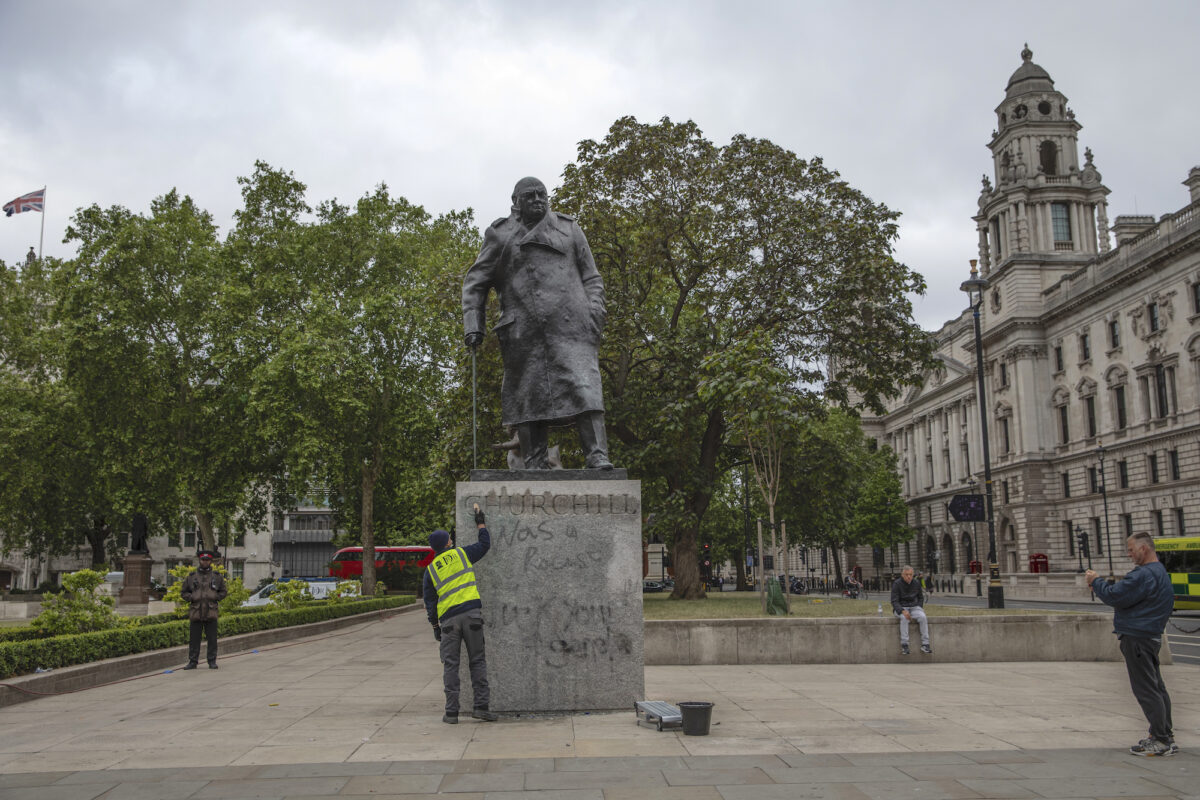 During XR's 10-day "rebel," activists blocked roads and bridges, superglued themselves to Parliament building entrances and pavements, and disrupted the distribution of several newspapers. Thirty bare-chested women on Thursday locked themselves to the gates outside Parliament.
The police arrested 680 people in London during the 10 days for "a number of different offences, including obstructing the highway, criminal damage, and breaching the conditions set under Section 14 of the Public Order Act (1986)," the MET said in a statement.
MET Commander Jane Connors said the series of protest have been "a significant challenge" for the police.
"The public have a right to protest, but they do not have a right to cause disruption to the communities and businesses across London," she said.
Connors said there will likely be more arrests as the investigation goes on.
"We will continue to investigate those who we suspect to have committed offences, so the number of arrests is likely to rise," she said.
XR's key demands for the government include declaring a climate and ecological emergency, halting biodiversity loss, reducing greenhouse gas emissions to net zero by 2025, and create a citizens' assembly on "climate and ecological justice," the group said in a statement.
XR did not respond to a request for comment by the time of publication.