The pain would start early in the morning.
It was intense, his left leg aching like one can't imagine, a sharp, distinct sensation that was nearly unbearable. The pain was real, which might be difficult to imagine, because Brian Bott doesn't have a left leg.
Bott, now 51, had his leg amputated well above the knee in 2012 after surgery for Stage 4 bone cancer. Efforts to save the leg were unsuccessful because his body rejected multiple components of a reconstructed leg following chemotherapy and numerous infections.
And that pain?
"Some amputees experience phantom pains, which are basically very specific pains, on the amputated or missing body part," Bott said. "The brain still registers pain, and therefore it is a very real pain as if that body part was still there."
Though most of his leg was gone, the pain persisted. So Bott, unable to sleep, had to do something, anything, to change his state of being.
"My phantom pains unfortunately hit between the hours of 2:00 and 4:00 am," he said. "The only successful means for me to get rid of them is to get up and move around. I don't want to wake up my wife and kids, so I just get out of the house and head to the ocean."
Bott, who lives in Irvine, grew up in San Diego participating in action sports, including motocross, wakeboarding, snowboarding, and surfing. And while he's still a big fan of the sports on land, it was the ocean that attracted him during these painful times.
He would get to the beach before sunrise, with nary a soul in sight. That is, until daybreak, when they would emerge, like bears from a cave after hibernation.
Surfers.
They aren't there to lie on the sand and get a tan. They hide their car keys, squeeze into a wetsuit and get in the water, the chilly Pacific Ocean, in order to experience the "stoke" of surfing that only surfers truly can understand.
Bott could understand, at one time a surfer himself, even if he couldn't get in the water to join them. So he'd pull out his iPhone and start taking pictures. It became his routine, his therapy, and ultimately his love.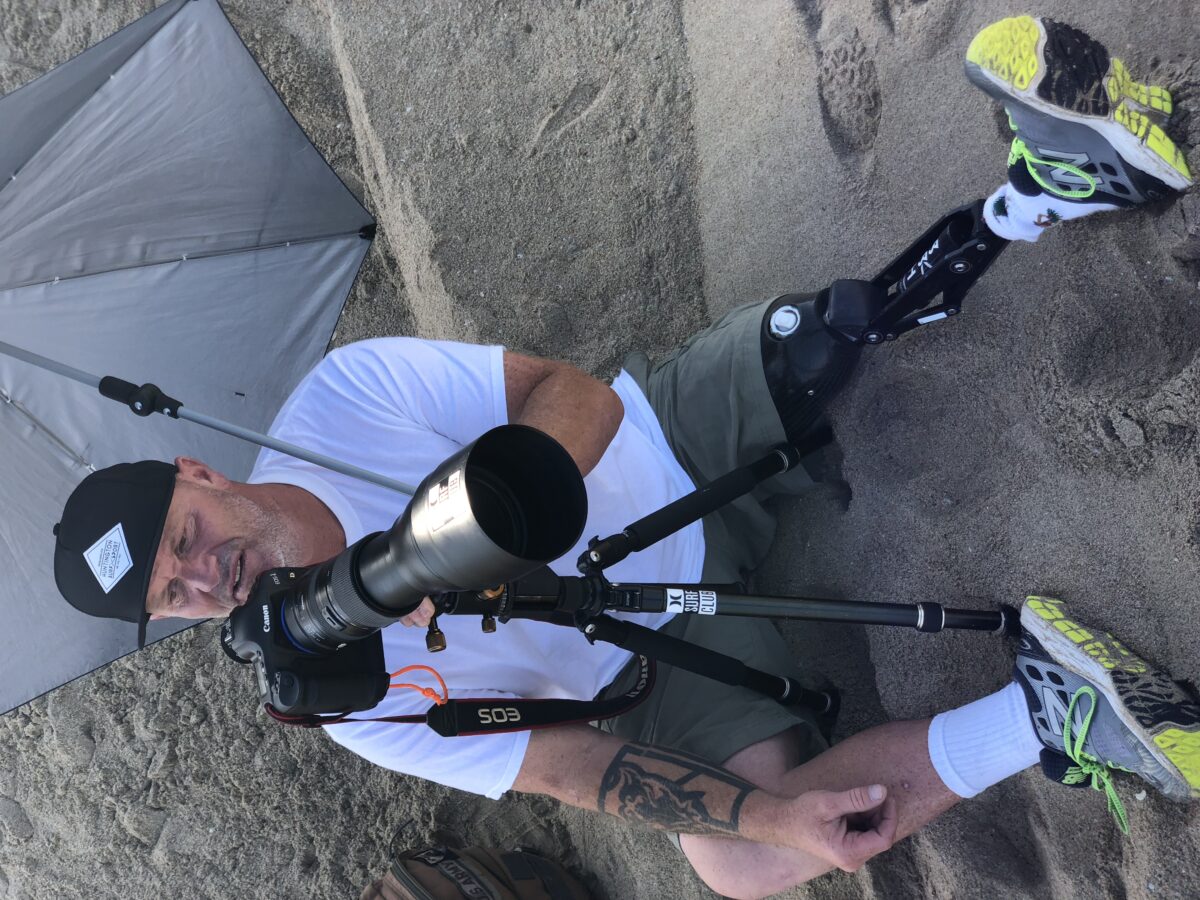 He upgraded from the iPhone to more sophisticated photography equipment, which is much more difficult to lug through the soft sand to his spot near the shoreline. And now, after several years of learning photography and meeting surfers from all over the world, including world-class surfers, Bott is a highly sought-after surf photographer.
Surfers young and old, professional, and those who hope to be, hire Bott to photograph and film them. It's become a labor of love that gets him out of bed every day—and helps pay the bills as well.
"I've surfed all my life and have always viewed Mother Ocean as a healing entity," he said. "There's something special about surfing and I love it all. The history, the brotherhood and mostly the people. I couldn't imagine my life without surfing in it; it's been too helpful in dealing with my amputation. It's my therapy."
For Bott, a U.S. Army veteran who served during Desert Storm and Desert Shield, his personal journey is about more than just himself. Striving and thriving through seemingly impossible obstacles is a message he wants to send to his two children (Hunter, 16, and Savannah, 13) and others.
"Initially with the amputation, it was my dad who was very cut-and-dry with me," Bott said. "He said there are two ways you can go—you can die slowly on the couch, or you can be as active as your body will allow.
"And always know your two young kids are watching you. You're teaching them a lesson that is a lot larger in scope. Once he painted that clear picture, that your kids will learn that in life you will face hard walls, I knew it was my responsibility as a dad to teach them that when you face adversity, you have to respond."
Bott admits that even today, an amputee for nearly 10 years, it's not easy. He says the challenge is more than simply what he's doing, but how he's doing it. Not only in front of his own children, but also the dozens of kids and adults he interacts with on the beach every day.
"The first thing I do every day is put my leg on, and the last thing I do every day is take my leg off," Bott said. "You can't get away from it. It can bring your mood down, so I have to build myself up. Going to the beach and meditating can do that, but sometimes I'm not as happy as I appear.
"I know people are watching me, and they're watching not just what you accomplish, but how you accomplish it."
Bott still participates in motocross and wakeboarding as much as his body will allow, though his limitations are not solely related to his prosthetic leg. He has a bum shoulder as a result of a fall while riding motocross, and he acknowledges that "it sucks" getting older.
And that makes him like the rest of us, just trying to figure out how to make the most of each day.
"Sometimes you have to train yourself how to be happy," he said, "and roll with the punches."
Bott's photography can be found on Instagram at @fakelegphotography.