Christian Hartsock, Filmmaker, Attacked by Trayvon Protesters in Oakland: Report
July 15, 2013 4:22 pm Last Updated: July 15, 2013 4:26 pm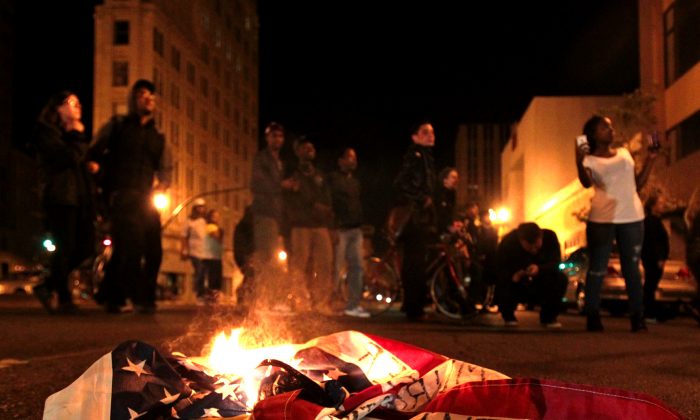 Christian Hartsock, a conservative filmmaker, said Monday that he was attacked by a mob of people in Oakland during the weekend's protests over the acquittal of George Zimmerman.
Hartsock told the Daily Caller website that he was beaten down on the ground, and the protesters "slugged" and "kicked" him on Sunday night. He was reporting on a rally in downtown Oakland, he said.
"I have interviews and I have footage of [Trayvon protestors] chanting 'no justice, no peace—[expletive] you pigs in your sleep,'" Hartsock was quoted as saying by the website.. "One of them was an elementary schooler chanting with his mom."
He was there for a time and two men told him to leave. 
"I advised them I was just there to see what was going on. They told me to get out. I asked why, which only afforded more threats. I declined their request to leave, they continued marching," he said.
But, he added, "two young men came back up to me and told me to leave. I told them 'no' and asked them what their issue was. Then other ralliers, noticing the two young men's belligerence toward me, assumed I must have been up to something, so they began to approach me too and ask me what my problem was."
Hartsock said before he knew it, an entire mob of people got around him and threatened him. He got punched in the face several times and was "mowed to the ground by about half a dozen of them."
He said a man hit him in the face and kicked him in the head while he was grounded. However, the mob could not grab his camera wallet or keys, he said.  "I fought them off somehow—it was kind of miraculous," Hartsock said.
The assault was not captured by a nearby ABC News van.
"ABC news van less than 20 feet away, got NONE of it. Yeah, this is why we have to do you guys' jobs for you and get paid in blood," wrote Hartsock on his Facebook. "My face is swollen and I have a huge black eye."
According to his Facebook account, Hartsock works as an undercover journalist at Project Veritas and is a writer and director at Dionysus Productions.
The San Jose Mercury News reported that demonstrators in Oakland said more protests are on the way. 
Downtown Oakland property fronts were damaged. Windows were broken and graffiti was sprayed on buildings.
Zimmerman was acquitted of second-degree murder and manslaughter in the shooting death of 17-year-old Trayvon Martin. After the verdict on Saturday night, people around the country demonstrated against the decision.