Fox News' Chris Wallace, the moderator of the first debate between President Donald Trump and Democratic presidential candidate Joe Biden this week, said he doesn't agree with proposals to give moderators the authority to cut candidates' microphones.
In an interview with the New York Times following Tuesday night's debate, Wallace argued that even if the candidates' microphones are muted, they could still interrupt each other and "disrupt the proceedings."
"As a practical matter, even if the president's microphone had been shut, he still could have continued to interrupt, and it might well have been picked up on Biden's microphone, and it still would have disrupted the proceedings in the hall," he said.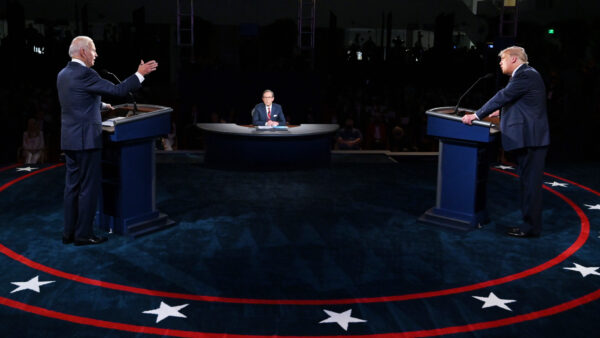 "People have to remember, and too many people forget, both of these candidates have the support of tens of millions of Americans," Wallace added.
The Fox News host's latest remarks came after the Commission on Presidential Debates (CPD) said it would implement "additional structure" to future debates.
Tuesday's debate was tense at times as both Trump and Biden interrupted one another, with Wallace unable to get a word in edgewise. At points, Wallace and Trump sparred over the subject of the questions.
Some also criticized Trump for interrupting Wallace before posing his own questions. At one point, the president told the moderator: "First of all, I guess I'm debating you, not him. But that's okay. I'm not surprised."
Wallace told the NY Times that he was "sad" with how "the night turned out."
"I guess I didn't realize—and there was no way you could, hindsight being 20/20—that this was going to be the president's strategy, not just for the beginning of the debate but the entire debate," he said.
The CPD said in a statement Wednesday that it is "carefully considering" the changes it will adopt and will announce the measures shortly, without elaborating.

Both the Republican National Committee (RNC) and the president have pushed back against suggestions to change the rules of the next two debates.
Trump, in a Twitter post, asked "why would I allow the Debate Commission to change the rules for the second and third Debates when I easily won last time?"
Republican National Committee Chairwoman Ronna Romney McDaniel said the commission shouldn't make any changes to the structure to "protect" Biden, the Democratic presidential nominee.

"I hope the Committee on Presidential Debates does not change the rules to once again protect Joe Biden from answering to the American people," McDaniel said on Fox News on Thursday. She also suggested that she wouldn't support any changes that would have either candidates' microphones cut off if they break a rule.
"I don't think you should be changing the rules that they have agreed to and I do not think this commission has the right to just arbitrarily change rules without talking to both candidates and getting agreement and input from both sides," McDaniel said.
The second presidential debate between Trump and Biden is scheduled to take place in Miami on Oct. 15, to be moderated by Steve Scully, an executive producer for C-SPAN, according to the CPD, although it is unclear what will happen now after Trump tested positive for COVID-19 on Thursday night.
Sean P. Conley, physician to the president, said in a statement, "The President and the First Lady are both well at this time, and they plan to remain at home within the White House during their convalescence.
"The White House Team and I will maintain a vigilant watch, and I appreciate the support provided by some of the country's greatest medical professionals and institutions. Rest assured, I expect the President to continue carrying out his duties without disruption while recovering, and I will keep you updated on any future developments."
A third debate is scheduled in Nashville, Tennessee, on Oct. 22, to be moderated by Kristen Welker, a White House correspondent for NBC News.
Jack Phillips contributed to this report.