Chris Brown is planning to sue the woman who has accused him of rape, the singer's lawyer said.
Brown was released without charge in Paris on Tuesday, Jan. 22, along with two other suspects.
They were detained on Jan. 21 on potential charges of aggravated rape and drug use.
The 24-year-old woman has accused Brown of raping her in the five-star Le Mandarin Oriental Hotel between Jan. 15-16.
The R&B singer has been authorized to leave Paris while the investigations are going on.
Lawyer Raphael Chiche said, according to the Mirror: "Chris Brown is free. No lawsuits were filed against him. He vigorously challenges the charges against him.
"A complaint for slanderous denunciation will be filed tomorrow with the public prosecutor of Paris."
A post late Jan. 22 on Brown's Instagram page also strongly denied the accusations.
"I WANNA MAKE IT PERFECTLY CLEAR…… THIS IS FALSE," the post said. "FOR MY DAUGHTER AND MY FAMILY THIS IS SO DISRESPECTFUL AND IS AGAINST MY CHARACTER AND MORALS!!!!!"
Brown's publicists at Sony Music wouldn't comment on Jan. 22 on the complaint or say what Brown, 29, was doing in Paris. His U.S. attorney, Mark Geragos, didn't immediately respond to requests for comment.
Brown has been in repeated legal trouble since pleading guilty to the felony assault in 2009 of his then-girlfriend, Rihanna. He completed his probation in that case in 2015.

The woman who filed the Paris complaint said she met Brown and his friends overnight Jan. 15-16 at the club Le Crystal in the 8th arrondissement near the Champs-Elysées, and then they all went to the Mandarin Oriental Hotel near the Concorde Plaza in central Paris, according to a police official.
The Mandarin Oriental wouldn't comment on the investigation, and Le Crystal couldn't immediately be reached. There was no unusual activity outside either site.
Previous Trouble
In late 2018 Brown faced legal action for keeping a pet capuchin monkey illegally.
Brown was criticized after he posted a video of the monkey being held by his daughter, who was 3 years old at the time. Brown claimed he didn't own the monkey, and that the video was taken in Las Vegas at a relative's house, TMZ reported. He claimed the relative owned the monkey.
But authorities took custody of the monkey in Los Angeles, the city where Brown lives, which Brown claims is a coincidence, saying the relative happened to be in town with the monkey. If convicted Brown faces a maximum of six months in prison. A judge will hear the case on Feb. 6, according to TMZ.
In 2016, Brown was arrested on suspicion of assault with a deadly weapon after a woman claimed the singer threatened her with a gun.
Brown was released from jail the same day after he posted $250,000 bail, according to jail records.
Alleged Assault
The alleged victim, Baylee Curran, recounted the events in an interview with the Los Angeles Times. Curran said that she and a friend were at a gathering at Brown's home and hoped to discuss possibly working together on future projects. She said that Brown suddenly became angry and pointed a gun at her as she was admiring some jewelry.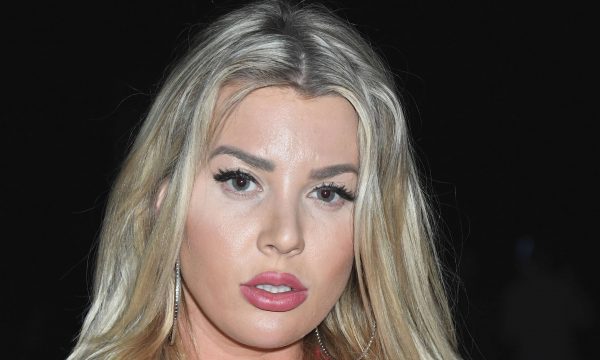 "I don't know if it was Chris's friend or how he was related, but that's when he told me to back away from the diamond necklace and started cussing me out and calling me names," she told the LA Times. "That's when Chris pulled his gun and told me to 'Get out,' he said. 'I'm sick of you girls, get the [expletive] out!'"
Curran said she then exited the home with a friend and waited for the return of her phone because, according to Curran, she had to hand over her phone to enter the premises. When one of Brown's associates came out with her phone, she was told she had to sign a non-disclosure in order to get her phone back, which she said she declined. Instead, she said she snatched her phone, ran toward a neighbor's home, and hid under an SUV away from the associate who had chased after her. The neighbor then contacted the police.
Police descended on Brown's Tarzana home at 3 a.m. and waited for a warrant to search the home.
In 2013, Brown was charged with misdemeanor assault after he punched a man outside of Washington D.C. nightclub.
Previous incidents at his residence include an armed home-invasion robbery and a naked woman allegedly breaking in and vandalizing the California home.
Epoch Times reporters Colin Fredericson and Chika Dunu and The Associated Press contributed to this article.