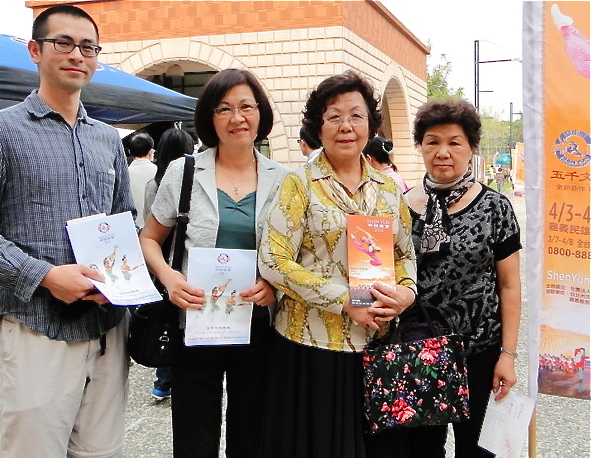 CHIAYI, Taiwan—Chiayi people have a respect for the heavens and the divine, and Shen Yun Performing Arts' tour to Chiayi has given them the opportunity to show their passion for the New York-based Shen Yun's display of China's 5,000-year-old, divinely-inspired culture.
Ms. Huimei Fang, director of the Chiayi City Vision Chorus, attend the performance on the afternoon of April 4 with chorus members. She praised the performance, saying, "It's amazing! Its artistic conception was marvelous!"
Shen Yun is "a presentation of traditional Chinese culture as it once was: a study in grace, wisdom, and the virtues distilled from the five millennia of Chinese civilization," according to the Shen Yun website. The company presents performances of classical Chinese dance as well as folk dances and ethnic dances from China's diverse regions and peoples.
Included in this year's program is the Taiwanese Amei Dance In the Mountains, which made one of the chorus members, Mr. Jiang, feel very proud. He said, "I feel very proud that Shen Yun can integrate the Taiwanese Amei dance and Taiwan culture into the performance, carry forward the essence of Chinese culture, and let the whole world see these things!"
The Shen Yun performance also includes story-based dance and portrays the ancient Chinese virtues of loyalty and filial piety, which deeply moved the audience members. Another chorus member, Ms. Sulan Jiang said, "The entire program was very touching. I was very overwhelmed that I could see such a wonderful performance in Chiayi."
The company also boasts award-winning solo vocalists that use the bel canto style singing with Chinese lyrics, which impressed Ms. Jiang. She said, "Amazing! The voices of the solo vocalists were fabulous! As vocal music enthusiasts, we paid special attention to their voices, listening carefully to learn from their singing. Next time we will definitely come for their singing again!"
She added excitedly, "Everything was very perfect. Especially the costumes and backdrop; I have never seen these things before. I felt eager to continue watching and listening to the performance, as it's indeed great."
Ms. Huimei Fang said that Shen Yun's coordination of the performing elements, including backdrops, dances, music, and vocals, was very impressive and unforgettable. "It's hard for me to find an exact term to praise the Shen Yun performance, but it will always be in my memory."
Reporting by Huiling Tung & Joseph Wu.
Shen Yun Performing Arts, based in New York, has three touring companies that perform simultaneously around the world, with a mission to revive traditional Chinese culture. Shen Yun Performing Arts New York Company will next perform in Melbourne, Australia, April 11-15 at the Regent Theatre.
For more information visit ShenYunPerformingArts.org
Read the original Chinese article