Singaporean Prime Minister Lee Hsien Loong has said that choosing his successor is not a reality show and is a "deadly serious life-and-death decision for Singaporeans."
The comments from Lee came during an appearance at the annual People's Action Party (PAP) convention last week.
"It's about developing a strong team and settling among themselves a primus inter pares, a first among equals, one who can bring others together and bring out the best from every member of the team," Lee said.
Lee, secretary-general of PAP, had wanted power transition to take place when he turned 70 next year, a pledge he made at the 2020 general election. However, the plan fell short when Deputy Prime Minister and heir apparent Heng Swee Keat unexpectedly bowed out in April, citing health, age, and "too short a runway" as factors.
"I know that the top job imposes exceptional demands on the office-holder. In a very different post-COVID-19 world, the demands will be even more exacting," explained Heng in this letter to Lee.
Heng, a stroke survivor who would be in his mid-60s if he became prime minister, must not only rebuild the country post-pandemic but also lead the next phase of nation-building. The uphill task, he said, would require someone with a "sufficiently long runway" to master the demands of the job.
Albeit a transition hiccup, the onus now lies on the younger ministers in the party's fourth-generation (4G) team to decide who else could become Singapore's next prime minister.
Political analysts consider PAP's second assistant secretary-general and Education Minister Chan Chun Sing, 52, among the front runners to lead the 4G team. Finance Minister Lawrence Wong, 48 and Health Minister Ong Ye Kung, 52, both key members of the COVID-19 multi-ministry taskforce, are also seen as contenders for the premiership.
"The 4G team will need a little longer to make a decision, but I am confident that they will settle it before the next general election comes around," added Lee, who said that he will stay on due to the pandemic.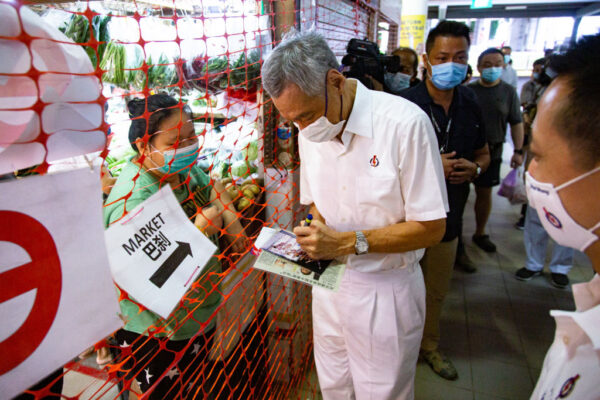 Threats to Reopening
Speaking to party members at the convention, Lee warned of "bumps along the road" as Singapore navigates the evolving pandemic, as Omicron, a "variant of concern" threatens to upset the country's reopening plans.
Despite drastic measures such as mandating vaccination for children and barring the unvaccinated from entering malls leading to the country's reopening, Lee's 4G ministers are struggling to contain the virus.
Daily infections once reduced to single digits surged past the 5,000 mark in weeks, overwhelming hospitals that were already running low on ICU beds and staff. This is despite an 87 percent vaccination rate, which is among the world's highest.
Last week, the government deferred vaccinated travel lanes (VTL), also known as travel bubbles to Qatar, Saudi Arabia, and the United Arab Emirates, slated for launch on Dec. 6, and reviewed border measures.
Deferments like these do not augur well for a global aviation and business hub, which banks on international trade and an open economy, observers said.
Singapore has inked 21 VTL's with trading partners such as Australia, Germany, and countries that rank among its top investors and business partners.
Lee, however, has remained hopeful.
"We are tracking this [Omicron variant] very closely. We are not sure yet, but we may well be forced to take a few steps back before we can take more steps forward," Lee said in his speech.