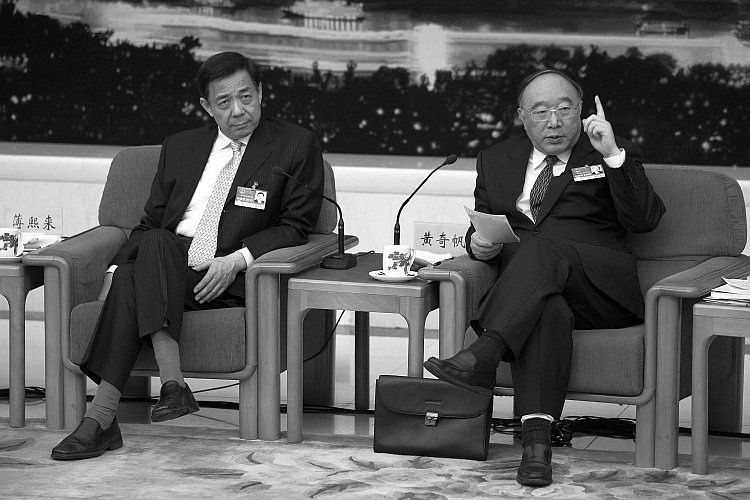 After Bo Xilai, the scandal-troubled former Party chief of China's central-western megalopolis of Chongqing, was removed from office on March 15, his former ally, Chongqing Mayor Huang Qifan quickly turned on him, exposed Bo's dark secrets to the central government.
Less than two weeks prior, during a press conference in Beijing on March 4, Huang Qifan said in front of about one hundred reporters from sixty Chinese and foreign media that he coordinates well with Bo Xilai, very well, just like fish in the water, and that they get along very well.
---

You might be interested in:
Why Zhou Yongkang is Doomed to Follow Bo Xilai
Expect Zhou to be fired from his posts as the struggle inside the CCP continues. Although a member of the Politburo Standing Committee, Zhou is facing trouble and is likely to suffer the same fate as Bo Xilai, columnist Zhang Tianliang argues.
---
After Bo was sacked, however, Huang proposed at the Chongqing municipal government meeting on March 16 that his staff strongly support the central government's adjustments to the Chongqing municipal party committee and their decision regarding the Wang Lijun affair. Wang is the former head of Chongqing police who fled to the U.S. consulate in Chengdu on Feb. 6, seeking asylum and protection from Bo Xilai.
The next day, March 17, Chongqing Daily, the city's official newspaper, also published several front-page articles stating that cadres at all levels are required to maintain consistency with the central government and support their decision.
Meanwhile, Boxun, an overseas Chinese website, quoted Chongqing sources as saying that Huang had exposed many of Bo's secrets to the central government.
According to Boxun, Huang said when Wang sought refuge at the U.S. consulate, Bo immediately ordered him to go to Chengdu and bring Wang back to Chongqing at any cost, even if it meant using force against the U.S. consulate. Bo said he would bear all responsibility.
Huang stated that Bo told him repeatedly that Zhou Yongkang, who is a member of the Politburo standing Committee, had promised him that he absolutely would not let Premier Wen Jiabao use the Wang Lijun affair against him.
Huang also said that Bo had made false claims about economic success achieved through his "singing the red and hitting the black" campaign. In reality, the economy of Chongqing had worsened since Bo came into office in Chongqing.
Huang indicated that Bo said many times that he commanded at least two army troops, and in the event that Xi Jinping succeeded Hu Jintao, Bo would order troops into Beijing to take Xi down.
Huang said also Bo established special organizations to conduct secret investigations and collect evidence of corruption involving relatives of Wen Jiabao and Xi Jinping in order to discredit them.
---
Click this tag to read The Epoch Times' collection of articles on the Chinese Regime in Crisis. Intra-CCP politics are a challenge to make sense of, even for veteran China watchers. Here we attempt to provide readers with the necessary context to understand the situation.
---
Huang also indicated that Bo had repeatedly said Wen Jiabao was an idiot and not at all capable to be the Premier, and that Hu Jintao was just a person with average ability. China's hope, Bo said, lies in Chongqing and in him. Bo even promised Huang that he would make him the Premier of China in the future.
Zhang Tianliang, an Epoch Times political commentator, said Huang's alleged remarks are highly credible, since his revelations are consistent with information disclosed by a U.S. official to Bill Gertz of the Washington Free Beacon.
Xia Xiaoqiang, another China commentator, told the Chinese Epoch Times, [the information on Boxun] clearly indicates that Zhou Yongkang is Bo's backstage supporter, and it verifies Bill Gertz's report about Zhou and Bo's conspiracy to remove Xi Jinping.
While attending a plenary meeting of the People's Liberation Army (PLA) deputies at the Fifth Session of the 11th National People's Congress in Beijing on March 12, Hu Jintao called for the PLA and the armed police to pay more attention to "safeguarding social stability" and stressed that "the military must abide by strict political and organizational disciplines," according to a report by state-run media Xinhua.
Xia said Hu is trying to take away power from Zhou Yongkang, who is the head of the Political and Legislative Affairs Committee and controls millions of paramilitary police responsible for stability maintenance.
In a press conference on March 14, reported on by Reuters, Wen Jiabao said, "Without the success of political reform, economic reforms cannot be carried out. The results that we have achieved may be lost. A historical tragedy like the Cultural Revolution may occur again. Each party member and cadre should feel a sense of urgency."
Wen also said, "The present Chongqing municipal Party committee and the municipal government must reflect seriously and learn from the Wang Lijun incident."
On Mar. 16, Xinhua published Vice Chairman Xi Jinping's article "Do a solid job in all kinds of work to maintain the purity of the Party," urging cadres to strictly abide by Party rules.
The remarks made by the three top leaders indicate that this is a fight between two political factions, and Bo Xilai is now being branded as someone who tried to revive the Cultural Revolution. The drama will certainly not end after Bo's arrest, instead, those who are on the same side as Bo will be hunted down and investigated, Zhang Tianliang said.
Zhang predicted that others will be arrested as well, including Chongqing mayor Huang Qifan, Zhou Yongkang, and perhaps the Defense Minister Liang Guanglie, as well as political commissars and commanders of the Chengdu and Tibetan Military Regions, who had engaged in a joint military exercise with Bo Xilai in Chongqing while Hu Jintao was in Hawaii at the APEC Summit last November. Eventually Zhou Yongkang's close ally, Jiang Zemin, will be implicated too, Zhang said.
In the Chinese Communist Party's history, whoever made the mistake of choosing the wrong political side was usually hunted down to the very end, Xia Xiaoqiang said.
Given the determination expressed by Wen Jiabao in his recent speech, as well as Hu and Wen's recent actions, Bo is definitely not their ultimate target. But how well Hu and Wen can handle the problems created by Zhou Yongkang and the Jiang [Zemin] faction will be their life and death ordeal, Xia said.
With Hu Jintao having military power in hand, when the political wind blows the other way, most of the people in Jiang's faction—except for a few like Zhou Yongkang who also hold military power—will either break up or defect, and they will betray Jiang just like Huang Qifan just did to Bo, Xia predicted.