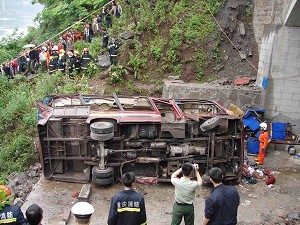 Chongqing Bus Accident Leaves 26 Dead, 6 Injured
On April 23, 2007 at 8:25 a.m., a major traffic accident in Chongqing City, Sichuan Province left 26 dead and six injured. Among them, five were injured critically.
The vehicle involved was a medium-sized bus owned by the Chongqing Automobile Transportation Co., Ltd. The bus, with 31 passengers and the driver, left Yubei District at 7:30 a.m. headed towards Beibei District. When passing Changsheng Bridge, located approximately two kilometers beyond the Chaoyang Bridge, the bus ran off the bridge and dropped nearly 13 meters to the earth below.
RECOMMENDED