Choices Narrow for NYC Business Owners in Sandy-Hit Areas
February 27, 2013 5:39 pm Last Updated: April 7, 2013 3:21 pm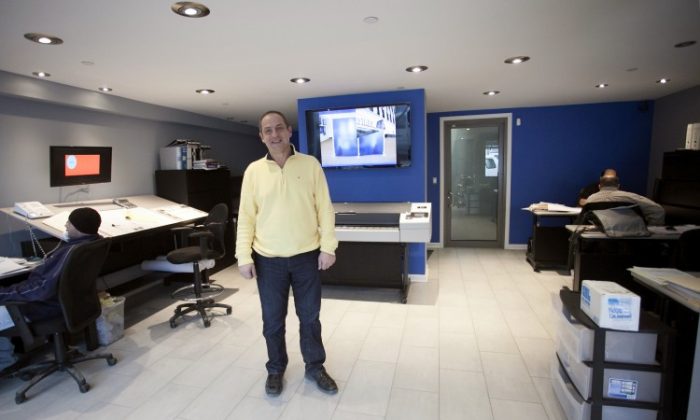 NEW YORK—Businesses across the city remain closed almost four months after Hurricane Sandy.
For business owners in the areas hit hardest by the storm, deciding whether or not to reopen becomes more problematic with each passing day, particularly because reopening does not guarantee customers. 
 Swaths of Staten Island, southeast Queens, south Brooklyn, Red Hook, and Lower Manhattan still do not attract nearly as many visitors as they did before Sandy, which adds to the difficult choice: Should businesses try to get money through grants and loans to rebuild? Or should they relocate to another area? Or should they just pack up and move on?
The storm surges, which came in late October, surprised many business owners. Some did not have flood insurance, while others did not insure their property.
"I didn't anticipate a flood," said Louis Sergi, president of Sergi's Images Inc. "But who does?"
Sergi's business sits just two blocks southeast of the water in Red Hook, the Brooklyn neighborhood Spike Lee highlights in his recent movie. The neighborhood is south of Manhattan's Financial District and across the East River. The area was severely flooded during Sandy—like other parts of the city, residents and business owners have jarring picture collections showing their buildings filled with murky water.
Sergi was one of the lucky ones, he said, as he was able to pay for almost $600,000 of the estimated $650,000 in damages he suffered—he received $52,000 from flood insurance, but did not have content insurance. His entire first floor flooded, and three delivery trucks were ruined. 
But even though the business is up and running again, he is paying the price now, he said. His company, which specializes in commercial glazing—installing glass fixtures such as windows—lost some contracts during the two months they were down following Sandy. 
"It's understandable because they need to get the project going," he said. "I would probably do the same."
The Red Hook enclave has something in common with Coney Island, Rockaway Beach, Midland Beach, and other areas—the damage inflicted by Sandy was so extensive and sudden that even with the floodwaters long gone, the communities will take much longer to recover, if they recover at all.
What's Happening
Officials with the city, state, and federal agencies in charge of helping businesses come back after the storm are still working hard, and they know the situation is far from over.
Spearheading the recovery is the city's Department of Small Business Services (SBS), which has given out more than $11 million in loans together with the city's Economic Development Corporation.
And as part of the federal package coming to New York, $100 million in grants will start being dispersed soon, along with another $80 million in loans and grants.
 "We're not stopping," Robert Walsh, commissioner of the SBS, told New York City Council Monday during a hearing on Sandy's impact on businesses. "The foot is still on the gas pedal."
At the moment, though, the efforts are not enough to fully revive dozens of streets on which many businesses are still closed, which forces owners to make tough choices.
The Salty Paw, a pet emporium and groom spa in Manhattan about one block from the East River, was flooded during Sandy. Owner Amanda Byron Zink told councilmembers that she is waiting for the landlord, the Durst Organization, to let her back into her storefront on Front Street, a situation shared by 12 other business owners.
[topic]They have been told by Durst that they may get their keys back in May, after the company has restored the devastated electrical infrastructure, including power lines, that are commonly placed in basements in the area. By May, according to Zink, her business will have lost over $200,000 in revenue over seven months of being closed. 
"And I am just a tiny groom spa," she added. "I can only imagine what my fellow restaurants' losses will be by the time they rebuild and re-open."
Durst owns 13 buildings in the South Street Seaport neighborhood. The buildings have about 90 residential units and a dozen retail tenants. The company faced a difficult decision: get the area restored and plugged back in as soon as possible, or upgrade the entire system to prepare for any future storms. 
"The easiest thing to do is to go back and reconnect with the grid, but that would be pennywise and pound foolish," said Jordan Barowitz, director of external affairs for Durst. 
All the mechanical systems in the Durst-owned buildings in the area were destroyed during Sandy, so the company is moving the heating and cooling to the roof, pending necessary approval, and other mechanics above-grade. 
People living in the Durst buildings who have had to relocate during the construction are free to break their leases, said Barowitz, while business owners must discuss breaking their leases. Some of the owners have already broken off their leases, he added.
The city expects to start giving out the $180 million in grants and additional loans for small businesses impacted by Sandy, but not until the federal government approves the proposal. Approval is expected in early April, after which business owners—and homeowners, for other related funds—can apply. 
Additional reporting by Deborah Yun