Chinese authorities sentenced Bian Xiaohui to over three years in prison after being arrested in March 2014. She was trying to see her jailed father.
Her father, Bian Lichao, has been serving a 12-year sentence in Shijiazhuang Prison since 2012 for practicing Falun Gong, a traditional meditation discipline persecuted in mainland China since 1999.
Police had rejected Bian's daughter's requests to visit him.
Bian Xiaohui, from the northern province of Hebei, was detained by Chinese authorities a week after she began holding up a sign outside Shijiazhuang Prison saying "I want to see my father."
Related Coverage
Joining Bian's silent protest was her aunt Chen Yinghua, who took a photo of her holding the banner. The photo and news reached Minghui.org, a website run by overseas Falun Gong practitioners that documents the persecution.
Chen, who also practices Falun Gong, was arrested along with Bian Xiaohui. Zhou Xiuzhen, Bian Xiaohui's mother and wife of Bian Lichao, was detained as well. She was tried at a district court in the city of Tangshan and accused of publishing messages about her husband's arrest and sentencing.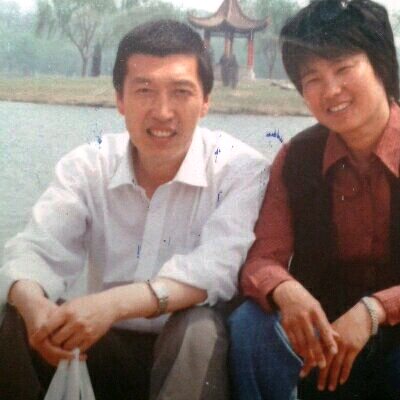 Charged with undermining the law, Bian and Chen went through two sham trials in August and December 2014. Eventually, Bian was sentenced to three and a half years in prison, while her aunt received four years. Minghui.org reports the sentencing was done "recently." Information about cases the regime regards as sensitive can be very difficult to get out of China.
Only two family members of Bian and Chen were allowed to attend the first trial, and their attorneys were strictly restricted in their arguments and statements. The second trial was held in secret without informing the family members or defense attorneys. 
Chen's parents, who are Canadian citizens, requested that the Canadian consul in Shijiazhuang, the capital of Hebei Province, attend the trial to represent them. The court rejected the consul visiting.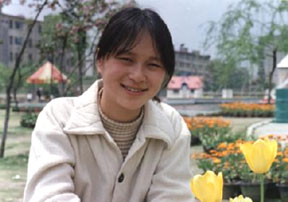 Bian's lawyer, Jiang Yuanmin, said that he would "definitely appeal" the verdict, according to a report by New York-based New Tang Dynasty Television (NTD).
"It's already a grievance that [Bian's] father was sentenced to prison for practicing Falun Gong," said Chen Shizhong, a human rights activist in the United States, in an interview with NTD Television. "She is not a Falun Gong practitioner, and neither has she participated in any Falun Gong activities."
Bian Xiaohui's devotion to her father went viral on the Chinese Internet, with many users praising her as a filial daughter and a "modern incarnation of Tiying," a woman from the Han Dynasty (206 B.C.–A.D. 220) famous for saving her father from torture at the hands of authorities. From the time of her protest in March 2014 through December, about 20,000 users followed Bian's social media account daily.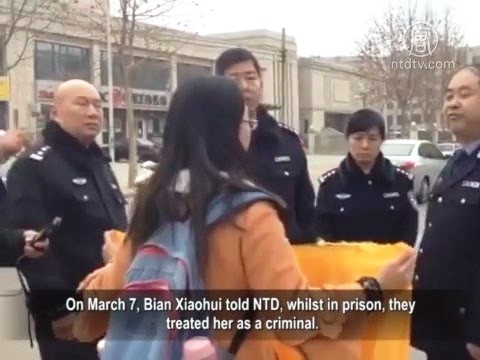 The spiritual practice of Falun Gong is based on the principles of truthfulness, compassion, and tolerance, and, after its introduction in 1992, rapidly became  immensely popular in China, with an estimated 70 million to 100 million practitioners.
In 1999, Jiang Zemin, the head of the Chinese Communist Party began a campaign to eradicate the practice. Jiang feared how many people were practicing Falun Gong and the attractiveness of its teachings to the Chinese people.
Bian's aunt, Chen Yinghua, has been on hunger strike during her detention, and is currently in critical condition, according to her lawyers. On April 14, Chen's father, Chen Zhiming, traveled to Shijiazhuang to visit his daughter. He was also rejected by the prison.