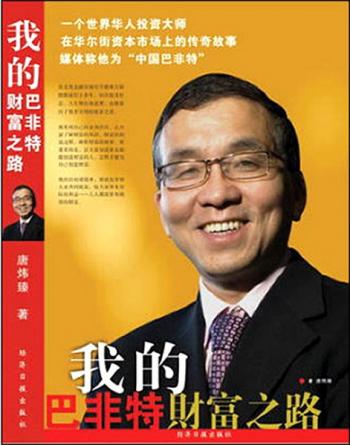 Four months ago, life was good for Weizhen Tang. It was December and the so-called "Chinese Warren Buffett" was welcomed at Beijing's Diaoyutai State Guesthouse, a site traditionally reserved for visiting foreign officials.
Mr. Tang was the toast of the occasion, rubbing elbows with Chinese officials and media. It was an event celebrating "wealthy and intelligent" Chinese, and the Toronto-based investor was honoured with the "Award for Best Credibility."
But that credibility was called into question recently after investigators with the Ontario Securities Commission accused Tang of defrauding his investors of as much as $60 million, allegedly part of a Ponzi scheme in which old investors were paid with new investors' money.
On March 17 the Ontario Securities Commission ordered that Tang and his companies cease trading so that investigators could probe the allegations further.
On Wednesday, the commission extended that cease-trade order to Sept. 10.

Mr. Tang declined an interview with an Epoch Times reporter who visited his house on Wednesday. No formal charges have been laid. However, upwards of 200 are said to have lost their investments, each at $150,000 or more.
Tang's rise to prominence was no less dramatic than his recent fall, according to a Chinese-language article on Tang's corporate website titled "Why Is Weizhen Tang So Capable?"
Tang was born the son of peasants in Hunan Province, China. He entered South Central Forestry College in 1978 and nine years later was sent overseas as a visiting scholar of biochemistry at a university in Ohio.
Tang came to Canada in 1990, continuing biochemistry studies at the University of Waterloo before taking up a job as a researcher at a Toronto hospital.
It was in Toronto in 1995 that Tang is said to have discovered his knack for trading, first by managing mutual funds for family and friends.
Two years later he formed what would later become the Weizhen Tang Corporation, one of three company's run by Tang that have now been named in the security commission complaint. His wife and daughter are listed as directors and officers of one company, according to the OSC filing.

If it sounds unlikely that a man with no formal training in economics would rise to be the investment "king," with claims of one per cent weekly returns, it's perhaps because Tang is an unlikely character. His role models include the world's best-known investor Warren Buffet, as well as hard line communist ruler Mao Zedong and pragmatist Deng Xiaoping, according to Tang's Chinese blog.
Tang succeeded in earning trust from other ethnic Chinese by presenting himself as someone who could help them succeed in an unfamiliar world. His investors included ethnic Chinese in Canada, the U.S., and Mainland China.
In an article on the Weizhen Tang Corporation website where Tang shares his "road to Buffettian wealth," Tang argues that the fears shared by Chinese immigrants are barriers to their success in North America.
"The majority of Chinese refrain from trusting others," Tang wrote. "On the rare occasions when we must, however, we are ever plagued by feelings of worry and suspicion. Many of us fear that someone might covertly make profit from us, or even cheat us. What we do not seem to understand is that we ourselves will not be able to make money if we stop others from doing the same."

As Tang's wealth grew, so did his reputation and influence. He was among those invited to welcome Chinese leader Hu Jintao on his visit to Canada in 2005. He was also welcomed as a representative of overseas Chinese by Chinese officials at a 2007 meeting of the United Front, an important organization used by the Communist Party to expand influence abroad.
In Canada, Mr. Tang was also an advocate of the Chinese regime's policies. When Chinese police cracked down violently on protesting monks in Tibet in 2008, Mr. Tang came forward with the funds for dozens of buses to bring Chinese to Ottawa for a rally supporting the Chinese government's stance that Communist rule had liberated Tibetans, he boasts on his blog.
For the event, Tang says he was prepared to spend up to $200,000.
"My role was to set the goal, provide funds, instruct how the capital was to be used, shoulder the risk, and do things that others can't and don't dare to do," he wrote.
Tang also enjoyed close ties with the Chinese consulate in Toronto. In January 2009 alone he organized and funded two events at which the consul general was a guest speaker.
And in February and March, he was recognized twice with an award for having organized the rally against the Tibetan cause last year. Both times the consul general was again in attendance.
In its March 24 submission to the securities commission, investigators now say Mr. Tang admitted in an interview to losing $15 million in 2007 while reporting a profit to investors.
The commission claims it has evidence that Tang was also paying old investors with funds from new investors.
Tang and his companies are also accused of trading securities without being registered with the commission and without filing a prospectus.
For Tang's part, he has stressed that no formal charges have been laid against him to date. In a series of letters posted on the Weizhen Tang Corporation website, he has admitted to making mistakes, but has denied benefiting personally.
"I did not steal everyone's funds," he said in the first of five letters.
"I am not like Ponzi or Madoff, because even my car is a leased one," he wrote in the latest, posted Monday.
Tang has said that if given the chance, he would earn back the money he lost. And, it seems, many investors want him to have the chance.
In a petition claiming to represent 116 investors that was posted by Tang to his company's website on Sunday, the OSC was asked to lift the ban on Tang's trading.
"Most investor clients of Weizhen Tang believe that, as overseas Chinese and a minority in Canada, non-physical confrontations should be solved internally," the letter read.
It said failure to lift the ban would result in "total, unrecoverable loss of our investments. This is something that we cannot accept on any terms."
Neither Tang's lawyer nor the investors presented the petition to the committee on Wednesday. Tang's lawyer instead stressed that his client was cooperating with investigators.
But one investor was present on Wednesday, a man who identified himself as Mr. Liu, a former doctor from China now in his 60s and out of work.
Mr. Liu said he'd invested with Tang since 2002 and says he lost most of his life savings.
"The thing I most like to do now is to have my money back," Liu said.
"I had seen my investments grow in the statements from Tang, but I'd never withdrawn any money."
Tang never warned Mr. Liu that there was risk in the investment, Mr. Liu says.
"I hope he can continue his job if the law allows. But if the law says he has to go to jail, so be it."
Additional reporting by Masha Ma and Anna Yang.