Chinese Villagers Protest Against Birth Control Enforcement
May 24, 2007 12:00 am Last Updated: May 24, 2007 12:00 am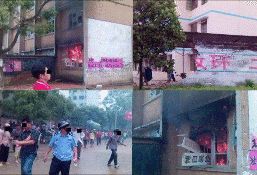 On May 19 thousands of rural residents in the town of Shapo in Guangxi Province, staged a protest in front of the town government building over the local authorities' harsh enforcement of birth-control policies. Motorbikes and vehicles near the building were set on fire.
The authorities sent huge forces over to heavily guard Shapo Town and other towns in Bobai County after the riot.
Villagers told the reporter on May 20 that the whole incident was ignited by the local authorities' tough measures against families that had broken birth control regulations.
According to local residents, the protesters became angry because local authorities had levied heavy fines on families that had more children than allowed. They pushed down a fence, but the people who actually burned the town offices of the building were dozens of young students.
The authorities had already made moves to enforce the policy early this year. This was the second time. A notice outlining fines for family planning violators was sent to every village, with fines ranging from several thousands of yuan to a hundred thousand yuan (about US$13,000). For those who could not afford the fines, they had their homes ransacked and even their doors and windows weren't spared damage. One resident said, "The penalties are very heavy! Some families were fined tens of thousands of yuan, and some even fined a hundred thousand yuan. They put collecting money over the law."
Another resident said, "They behaved way out of line for the nature of the crime. They confiscated people's houses and took everything away."
The head of the Shapo Health Center didn't want to comment on this incident saying he was too busy.
According to a message posted on the Internet by local residents, as of May 20, farmers at Shahe, Dungu, Shuimin, Yong'an, Nabo, Shapo, Datong, Yingqiao, Wendi and other towns nearly simultaneously attacked all of these town authorities, and set fire to the official buildings and vehicles.
Half of the police cars in Bobai were burnt, and a family planning officer was killed. The clashes also caused damages and injuries on the farmers side.