A Chinese primary school teacher spent 10 days in detention and had his teaching license revoked for spreading "inappropriate remarks" relating to the coronavirus outbreak.
Song Junhong, 48, is a primary school teacher in Wudang, a district in the southern province of Guizhou.
On Feb. 3, he wrote in a chat group on WeChat, one of the largest Chinese social media platforms, that he can't trust the coronavirus death numbers reported by Chinese authorities.
Funeral homes in Wuhan, the outbreak epicenter, are running 24 hours non-stop to cremate bodies, he wrote in one message, adding, "I don't dare to imagine the death toll."
In another message, he accused authorities of underreporting death figures.
"The reported death toll is all fake. Every day, about 500 people die in Wuhan alone, not to mention the whole country," he wrote.
He soon deleted the remarks.
At about 11 p.m. that day, police summoned him to the local police station for interrogation, Song told the Chinese language edition of The Epoch Times in a phone interview on March 2. The police showed him a screenshot of his messages taken by another person in the chat group, and accused him of spreading rumors.
He was then ordered to 10 days in administrative detention for "fabricating facts to disrupt public order," according to a document provided by police upon Song's release.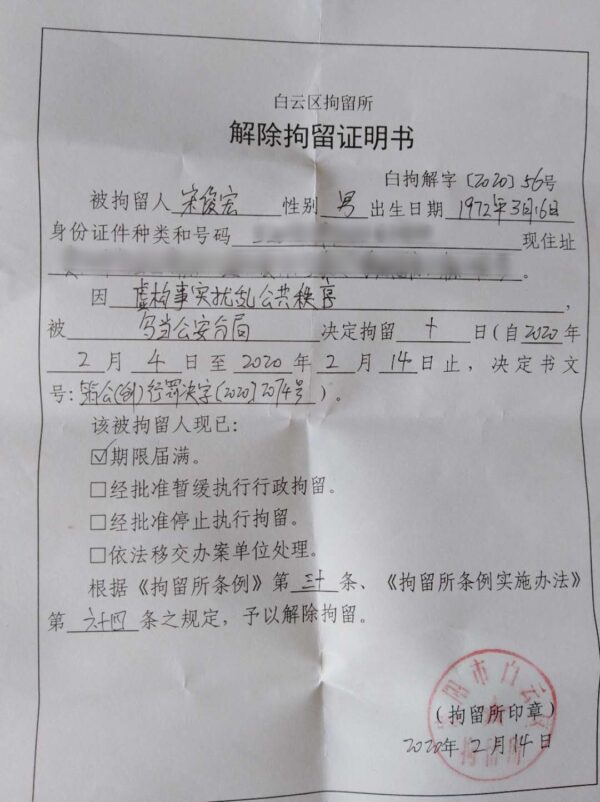 Three days after his release, Song said he learned that the local education bureau had convened a meeting over his actions, during which they decided to strip him of his teaching license. He would be considered as a logistic worker rather than a professional technical employee, which will reduce his salary by 60,000 yuan ($8,618), according to Song.
He was also publicly criticized in Wudang district and told he would be disqualified from this year's professional assessment. A number of officials, including the Chinese Communist Party chief at the education bureau and the school's principal, either made self-criticisms or were reprimanded because of his messages, according to a screenshot of the meeting keynote Song provided to The Epoch Times.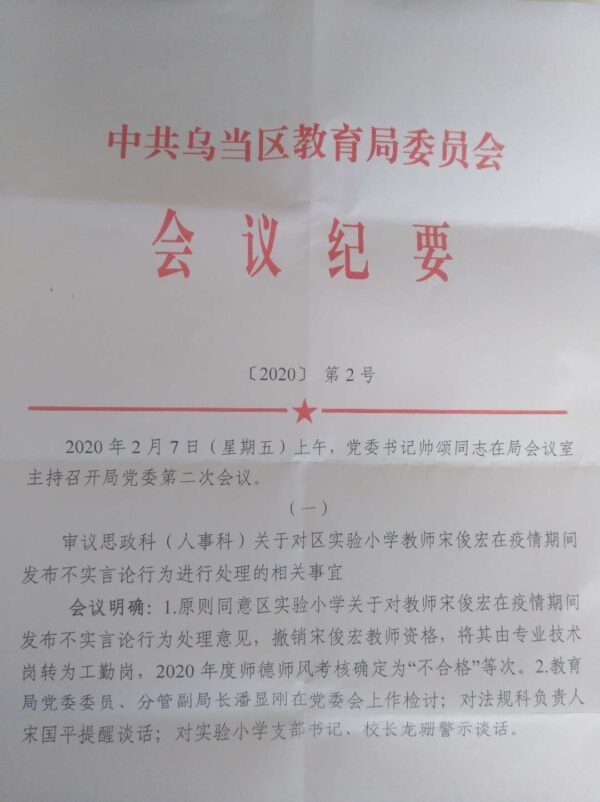 The Epoch Times talked to Song by phone on March 2, but the interview was cut short because of a police warning.
"A notice from the police just came. They won't allow me to be interviewed," he said before abruptly ending the call.
Censorship
Chinese authorities and state media have repeatedly warned that people could be punished for spreading outbreak-related "rumors."
Article 291 of China's criminal law states that people who spread "fake information" about disasters and epidemics on the internet or social media could face up to seven years in prison.
On March 1, a new regulation from the Cyberspace Administration, the regime's chief office for internet censorship, came into effect, banning internet users from spreading anything that could "endanger national security, disclose national secrets, subvert state power, and sabotage national unity."
It further called for internet content producers to proactively resist "inappropriate comments about catastrophes, including natural disasters and major accidents," as well as "any other content that may have a negative impact on the internet ecosystem."
These measures come amid the regime tightening control on information being shared about the coronavirus as it seeks to project an image that the outbreak is under control.
Li Wenliang, one of the first doctors in the country to sound the alarm about the outbreak, was in January summoned by local police and made to sign a statement of admonition. He later died of the virus at the age of 33. At least three citizen journalists, Fang Bin, Chen Qiushi, and Li Zehua, have vanished in Wuhan after sharing on Chinese social media first-hand videos online documenting the crisis.
"There should be more than one voice in a healthy society," Li told Chinese media from his hospital bed shortly before his death in February.
As of Feb. 15, Hubei Province, whose capital is Wuhan, had engaged at least 1,600 online censors, working 24/7 to erase "sensitive" information from the internet.
Washington-based non-profit Chinese Human Rights Defenders documented 254 cases of arrests over the week from Jan. 22 and Jan. 28, in which Chinese citizens were punished in forms of fines, verbal warnings, forced confessions, or forced "education" for spreading rumors online about the coronavirus.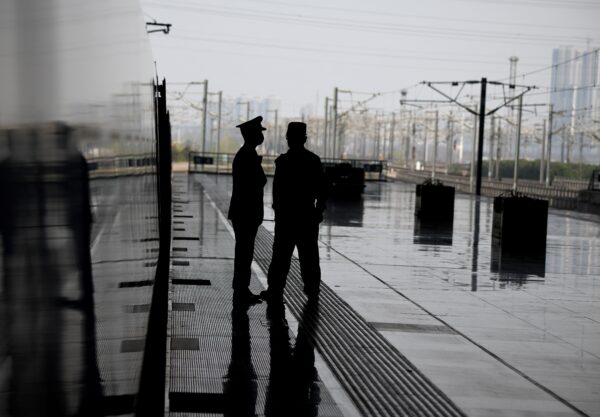 Underreporting Cases
The Epoch Times has previously reported on evidence that authorities have underreported the number of coronavirus infections and deaths in several regions.
A leaked document showed that authorities in the eastern province of Shandong had from Feb. 9 to Feb. 23 understated infection numbers by 1.36 times to 52 times.
A senior official from a major crematorium in Wuhan in early February described a dramatic surge in their daily intake since Jan. 22.
On Feb. 3, the same day Song was arrested, the funeral home received as many as 127 bodies, the official told The Epoch Times. He said that it was five times their normal workload.
In Caidian Funeral Home, another funeral home in Wuhan, 90 percent of the workers had been working round the clock since Jan. 28, one employee said in a Feb. 4 interview. The worker, identified as Yun, said they need at least 100 body bags per day. Due to the high pressure, the staff could only sit on their chairs and nap whenever they could.
"All Wuhan cremation chambers are working 24 hours," Yun said at the time.
A previous version of this article misstated a detail about how police arrested Song Junhong. The Epoch Times regrets the error.