Chinese Suppliers Suffer with Carrefour Boycott
May 4, 2008 12:00 am Last Updated: May 4, 2008 12:00 am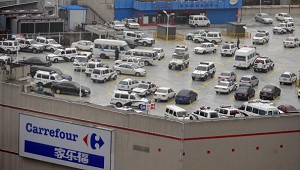 After the French protest at the Beijing Olympic Torch relay, official Chinese media have been highly critical of France. Since then, a retaliatory boycott on French goods has been advocated, resulting in a Chinese protest and boycott of the France-invested retailer Carrefour. Yet the escalating boycott has begun to unintentionally hurt Chinese suppliers of Carrefour as well.
On April 24, a food supplier in Beijing received a fax from Carrefour requesting a goods return. "If the boycott continues, we will certainly suffer greater loss in the future," said the helpless supplier who mentioned that other food suppliers also received goods return notice from Carrefour.
A Beijing supplier was told to go to Carrefour and process 70 boxes of returned goods, or their order would be null and void. "Seventy boxes equates to about a 10 day sales amount in Carrefour," explained the supplier.
According to a China Business Journal report, from the over 100 Carrefour outlets, 95 percent of the goods come from over 1,000 local suppliers in China. Based on Carrefour's unconditional goods return contract, the loss from returned goods will eventually be borne by the suppliers.
"The protests in Beijing, Shanghai, Guangzhou, and Suzhou are relatively restrained," said a Carrefour manager, whose name was withheld by request, "The protests outside our stores in Hefei, Xuzhou, Kunming, Changsha, Wuhan, and Qingdao are very intense." Carrefour stores in Wuhan and Hefei have had to suspend operations due to the protests.
"Because of the boycott, our total sales declined almost 20 percent in the past few days. We are gradually receiving goods return notices from various Carrefour stores," said the manager.
Yang, a General Manager from the Shanghai Chengxie Logistics Distribution Ltd. is very concerned as his company supplies between 70 to 80 percent of the goods for Carrefour Shanghai. In his opinion, many goods have to wait two months before one can see the true impact of the goods return on them.
Yang said that for Carrefour, the incident is merely a sales loss in the short term, and subsequently a partial profit loss. But the real victims are the over 1,000 Chinese suppliers, he said.
Yang explained that Carrefour normally operates on a three-month accounting cycle and returns goods unsold in two months. "Now the goods return rate for Carrefour is about eight percent," said Yang. "If the rate reaches over 20 percent after one or two months, it will hurt the suppliers greatly, especially the food suppliers."
A fresh produce supplier verified that with fewer Carrefour customers, the fresh produce may be affected the most. "Our product sales will decrease at least 30 percent on the whole, and the returned products that cannot be sold will all be borne by the suppliers."