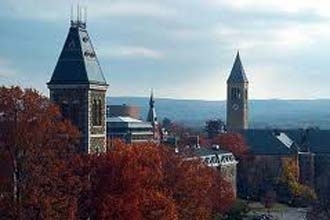 The kickoff of the fall semester marks a new starting point for Chinese students who traveled halfway across the globe to begin lives as students in the United States. Many of those attending the elite colleges were able to leverage the vast wealth accumulated by their parents in China to ensure a comfortable time in America.
Daisy Zhang is the daughter of a provincial Communist Party leader. After she entered as an undergraduate at Boston University this fall, Zhang became a frequent visitor of luxury brand stores in the city.
"Whenever I go shopping at Barneys New York or Nordstrom on the weekends, I bump into other Chinese students. Once I went shopping with a friend whose father is an enterprise chairman in Zhejiang Province, and she spent nearly $20,000 in just 10 minutes. That was nothing for her," said Zhang, who added that some of her Chinese friends bought villas and luxury cars soon after they arrived in America.
Despite the material affluence, a sense of trust is often absent among rich Chinese students, Zhang said. "Unless we are close friends, we don't reveal our family backgrounds and parents' jobs, just in case we get into trouble.
"Among the Chinese students here there are two well-known facts: undergraduate students come from richer families than graduate students, and the second generation of rich businessmen do not surpass sons and daughters of communist officials in terms of wealth," she said.
With a sluggish domestic economy, American universities now actively recruit international students who can afford to pay full tuition. With nearly 160,000 Chinese students studying in the United States in 2011, according to the Institute of International Education, the economic impact is significant: $4 billion in tuition alone. Some estimates indicate that, adding accommodation and living expenses, the figure could be double that.
Aside from spending power, students have to contend with a different language and culture.
"I don't understand most of their humor or jokes. I don't understand the custom and culture behind their language," said Jessica Yang, a new undergraduate student at Brown University, of her fellow American students "So I find myself always hanging out with other students from China."
Yang said that although it has been difficult to understand her American classmates culturally, she learned English extensively in China and has no problem understanding magazines and television shows.
Students at more advanced levels find their English skills insufficient for academic readings. "Reading and writing tasks bother me most," said Jenny Li, a doctoral candidate at University of Illinois at Urbana–Champaign. "One professor's reading assignment was over 200 pages per week. I spent five minutes on one page, but still could not understand all of it." Jenny mostly abstains from entertainment activities, and tries to eat her meals quickly to get back to study, hoping it will pay off later.
America's freedom is something that Chinese students sometimes take time to adjust to.
Louise Chen, who just entered Harvard Kennedy School last weekend, said that she was impressed by the academic freedom students enjoy in the United States. "My professor told me that my opinion was valuable. All students can raise their own questions and refute the professors' perspectives," she said.
"Professors do not impose their views on anyone. It is simply unthinkable in China."
Read the original Chinese article.
The Epoch Times publishes in 35 countries and in 19 languages. Subscribe to our e-newsletter.