The Chinese student whose parents reportedly paid $6.5 million to secure her a spot at Stanford University previously denied assumptions that she got accepted by the exclusive university because she was rich, saying she got in through her "very hard work."
In a 2017 video, Beijing-native Zhao Yusi, also known as Molly, described how her diligent studies and can-do attitude allowed her to gain admission into the prestigious American college.
This was before it was revealed by the Los Angeles Times that the student allegedly got accepted into Stanford in the spring of 2017 after her billionaire father, Zhao Tao, and family paid the massive sum to disgraced college counselor William "Rick" Singer, the fixer at the center of the U.S. college admissions scandal.
The $6.5 million figure is the largest payment linked to the scandal.
Singer helped Zhao get accepted by claiming that she was a competitive sailor fit for the school's sailing program, even though there was "no indication" she ever participated in the sport, the outlet said.
After the bribery revelations became public, Chinese netizens uncovered a 90-minute video live-streamed and posted onto the popular Chinese media platform Weibo by then 17-year-old Zhao, where the student offers advice to Chinese viewers about how to gain admission into prestigious Western universities.
The video has recently gone viral on Chinese social media.
"I want to tell everyone that getting into Stanford isn't just a dream. As long as you have a clear goal and work as hard as you can, you can achieve it," she said in Mandarin Chinese.
Zhao added that she was "not one of those people with naturally high IQ." Rather, she gained admission into Stanford, her dream university, only after her "efforts in improving bit by bit."
"Some people think, 'Did you get into Stanford because your family is rich?' Actually no, the admissions officers …  have no idea who you are."
The student said she was awarded a scholarship to attend the institution, touting that she was able to get accepted into a school with the lowest acceptance rate in the world. In 2017, Stanford accepted only 4.65 percent of applicants, lower than both Harvard and Yale universities, which had acceptance rates of 5.2 percent and 6.7 percent respectively.
Stanford expelled Zhao in April after discovering that her admissions application contained fabricated sailing records.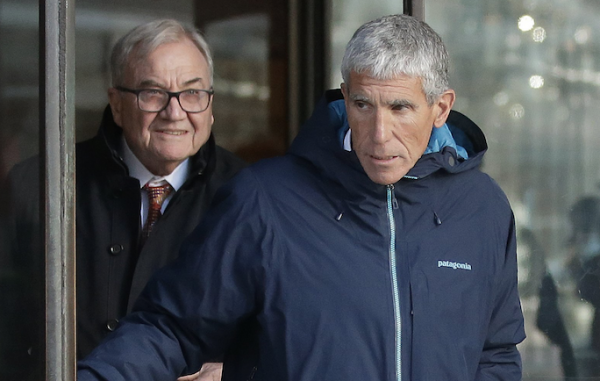 The Chinese student's family is among dozens of people caught up in the U.S. college admissions scandal, which has seen 54 people charged in the cheating scheme, including Singer and 33 parents. Among the group of wealthy parents are "Desperate Housewives" star Felicity Huffman and "Full House" actress Lori Loughlin. Singer and Huffman are among more than two dozen defendants who have pleaded guilty. Loughlin has pleaded not guilty.
Singer has admitted to orchestrating the scam, which included submitting fake test scores and bribing admissions officials and sports coaches. Prosecutors alleged that he received a total of $25 million in bribes to carry out the cheating schemes.
Zhao's family, who lives in China, has not been charged.
Zhao's mother, identified only as "Mrs. Zhao," said in a statement through her lawyer on May 3 that she was "misled" into making the payment to Singer's organization "which was represented to her as a substantial and legitimate non-profit foundation" funding student scholarships at Stanford, the South China Morning Post reported.
She said Singer's admissions consultancy "did not guarantee admission into any particular school," adding that her daughter was also a "victim," the outlet reported.
Zhao's father, Zhao Tao, chairman and co-founder of the multibillion-dollar pharmaceutical company Shandong Buchang, issued a statement on the company's website on May 3, stating that the news concerning his daughter was a private matter, bearing no connection with the company.
The statement added that the funding for Zhao's U.S. university tuition had no relation to, or effect on, the company.
While many of the parents who have been charged paid amounts between $250,000 and $400,000 for the illegal admissions services, it was families from China who allegedly paid the most, the Wall Street Journal (WSJ) recently reported.
The WSJ also reported that another family from China paid $1.2 million to secure a spot at Yale for 21-year-old Sherry Guo. She is identified in court documents as "Yale Applicant 1." The student is a Chinese native who first moved to the United States for high school, the outlet said.
Singer allegedly listed Guo as a recruited athlete in her Yale application, the WSJ said. The student is no longer at the college, a lawyer confirmed with WSJ.
Guo's family also has not been charged.
In the video, Zhao counseled other students to believe in themselves, recalling her own efforts to overcome poor academic performance in primary school, and being underestimated by her high-school teachers.
The student lived in Beijing before moving to the United Kingdom to study high school at Wellington College in Berkshire, one of England's most prestigious boarding schools. The school charges £13,250 ($17,459) per term.