Chinese Stock Market in 2010: Milking Money from Chinese Investors
February 11, 2011 6:05 pm Last Updated: October 1, 2015 5:42 pm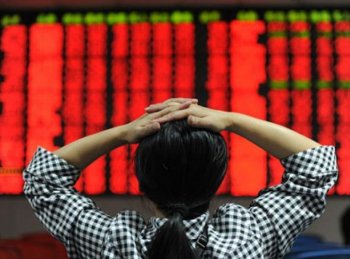 China's stock market for 2010 was underscored by interesting paradoxes. On one hand, China became the world's top IPO market, with 349 initial public offerings (IPOs) that raised 940 billion yuan (US$143 billion). Both figures were the highest in the world.
On the other hand, by sharp contrast China's stock index plunged by 14.31 percent over the year, losing a total of 1,772 billion yuan ($270 billion). This made China the third worst performing market in the world in 2010.
Economic Information columnist Pi Haizhou said the paradox reflects the fact that China's stock market was designed as a tool of for collecting money for listed companies. "Raising money [for listed companies] is the primary, or even the sole function of China's stock market," Pi said in a Jan. 12 article. He said the majority of the investors have been paying dearly for the IPO boom and the new riches it has created.
A research study conducted in 2002 by the Shanghai University of Finance and Economics and the University of Brunel in the U.K. revealed that 70 percent of China's listed companies rely on the stock market to realize profitability. The research revealed that the capital raised from the stock market has been used to window dress financial reporting to attract more investors, rather than improve business competitiveness.
The wealth flows not only into company accounts, but to privileged individuals. According to statistics from the Shanghai financial data provider Wind Information, the 349 IPOs in 2010 have created 824 nouveau riche, who own more than 100 million yuan worth of stock. In other words, every IPO created 2.4 millionaires. In particular, the Growth Enterprises Market (GEM) launched in 2009 to accommodate start-ups has created more than 430 millionaires. At its peak, 100 millionaires were made in a single day.
Many of the listed companies' senior management staff have resigned shortly after the IPOs in order to cash out the stocks, according to the China Economic Herald . When the first 28 GEM listed companies debuted for public trading on Nov. 1, 2010, 41 management members of 13 companies sold 21 million shares for 2.55 billion yuan (US$389 million) within a month.
Another highlight of 2010 is the popularity of refinancing as a new way to attract investor money. According to the China Economic Herald report, 154 listed companies issued additional shares in 2010, raising a record-breaking 354 billion yuan (US$54 billion). Leading the trend were 11 banks, who raked in more than 400 billion yuan through refinancing, doubling the amount of 2009.
Economist He Qinglian said the authorities helped state banks to raise capital from the stock market through favorable regulations, in order to cover up the banks' mammoth bad debts.
Foreign investment is also a big winner. Peking University professor Zhang Hongliang said in his blog that foreign investors' privilege of buying Chinese stocks at extremely low prices is the reason why they can make money, while most Chinese investors lose. Zhang gave the example of PetroChina, whose stocks are sold to foreign investors at about one yuan, and to Chinese retail investors at 30 to 40 yuan. "That is to say, foreign investors would not lose money unless the PetroChina stock price dropped below one yuan," Zhang said. "But if it did drop to that price, it would have killed the Chinese [investors] several times over."
Next: Zhang criticized the authorities for allowing the low price stocks to be traded