Chinese state media left out some conspicuous details in their coverage of the meeting between U.S. President Donald Trump and Chinese leader Xi Jinping at the G-20 summit in Buenos Aires, Argentina.
The G-20 negotiations resulted in a ceasefire. Upon the conclusion of the meeting on Dec. 1, the White House press secretary sent out a statement with details about the outcome, chief among them Trump's decision to halt the escalation of the tariff rate on Chinese imports worth $200 billion to 25 percent from 10 percent come Jan. 1.
Meanwhile, China has agreed to purchase more U.S. goods to reduce the trade surplus it currently has with the United States—including U.S. agricultural products.
The two leaders agreed on a truce, provided that within the next 90 days, China and the United States will negotiate "on structural changes with respect to forced technology transfer, intellectual property protection, non-tariff barriers, cyber intrusions and cyber theft, services, and agriculture." But if at the end of the 90-day period, the two parties can't reach an agreement, the scheduled tariff increase will come into effect.
Chinese state media painted a different picture of the negotiations. State-run media Xinhua published its article on the Xi–Trump meeting past 1 p.m. on Dec. 2 in Beijing time, opening with descriptions of how the two leaders underwent talks in an "honest, friendly atmosphere."
The report mentions that the United States agreed to "stop adding new tariffs," but doesn't explain the 90-day deadline, nor the agreement to negotiate on issues of intellectual property theft and trade barriers. "The two countries' economic teams will intensify consultations, advancing towards eliminating all added tariffs, for a mutually beneficial concrete agreement," the report read.
Xinhua also made no mention of China's promises to buy more U.S. goods, and a detail in the White House statement regarding U.S. chipmaker Qualcomm's failed bid to buy NXP Semiconductor after Chinese regulators failed to approve the deal.
"President Xi also stated that he is open to approving the previously unapproved Qualcomm-NXP deal should it again be presented to him," the White House statement read. Qualcomm had announced it would cancel its bid to buy the Netherlands-based company back in July, after China's antitrust regulator made no decision upon the deadline's passing.
Qualcomm needed approval from China because the country accounted for nearly two-thirds of the company's revenue last year, according to Reuters.
The only details that matched up in both the White House statement and Xinhua's report were Xi's decision to more strictly control fentanyl in China, and the two leaders' commitment to denuclearization in North Korea.
It should be noted that Xinhua's article in Chinese doesn't elaborate on what control measures on fentanyl China will implement, whereas the White House statement said Xi has decided to designate fentanyl as a "controlled substance, meaning that people selling Fentanyl to the United States will be subject to China's maximum penalty under the law."
These obvious omissions paint China in a more positive standing in the trade negotiations, seeming as if the United States had conceded with halting the tariffs' progression.
Fentanyl
China is the country of origin for most of the illicit fentanyl found in the United States. The drug, about 100 times more powerful than morphine, is at the center of the current opioid crisis, with almost 30,000 overdose deaths involving fentanyl and fentanyl analogs—out of a total of more than 72,000 drug overdose deaths in 2017, according to the U.S. National Institute on Drug Abuse.
The U.S. administration found that manufacturers in China were able to exploit loopholes in the U.S. shipment system to smuggle fentanyl into the country, and has long sought cooperation from Chinese authorities to crack down on fentanyl and other synthetic drug manufacturers in China.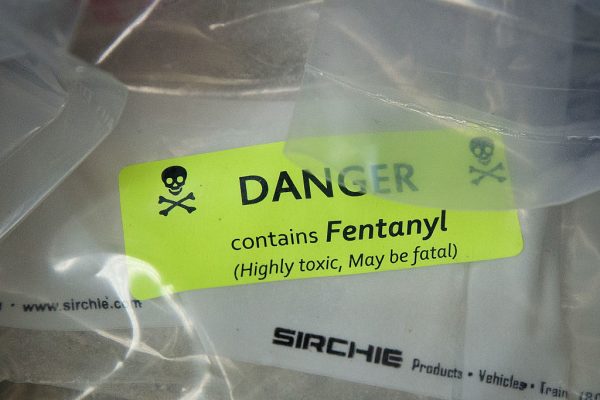 However, Chinese drug companies—even publicly listed firms—have long operated without repercussions.
Chinese authorities have also previously denied that China was the chief producer of fentanyl.
For example, during a daily press briefing with China's foreign ministry on Nov. 27, the spokesperson answered a reporter's question about China's efforts to curb fentanyl thusly: "The U.S. side has denounced China for being the major source of fentanyl in the United States, but has never provided China with accurate data and effective evidence [of such]."
In an August 2018 article by the state-run newspaper Global Times, Yu Haibin, the head of the China National Narcotics Control Commission, reiterated that position and was quoted as saying, "I don't know where the basis for this claim is coming from. China absolutely cannot accept this."
Upon news of the G-20 negotiations, Chinese media continued to deny responsibility.
A Dec. 2 news article by the state-run China Securities Journal tried to explain what fentanyl is, describing it as "itself a good drug" for reducing pain after surgery, or used as an anesthetic.
Similarly, a Dec. 2 article by Chinese financial newspaper, National Business Daily cited the Global Times article from August to refute the United States' criticisms of unbridled production of fentanyl in China.
Chinese drug companies also jumped to their own defense to claim to Chinese media that they don't export fentanyl to the United States. Humanwell Hi-tech, a pharmaceutical company based in Wuhan City, made that point to Chinese newspaper Economic Observer, while Nhwa Pharmaceutical Co. based in coastal Jiangsu Province, offered a similar statement to National Business Daily on Dec. 2.
Frank Fang contributed to this report.