The Chinese regime's English media channel China Global Television Network (CGTN) released a propaganda video of the Chinese People's Liberation Army Air Force (PLAAF) on its official Twitter for the communist party's centennial on July 1. Social media users immediately discovered that the clip used a video segment from the Indian Air Force.
On June 30, CGTN posted the public relations video "The First J-10 Fighter Launched in 2000s" to promote a Chinese pilot who has been flying fighter jets for 15 years. The footage shows the jet flying over snow-covered mountains. A camera on the bottom of the jet recorded the moment it launched a missile.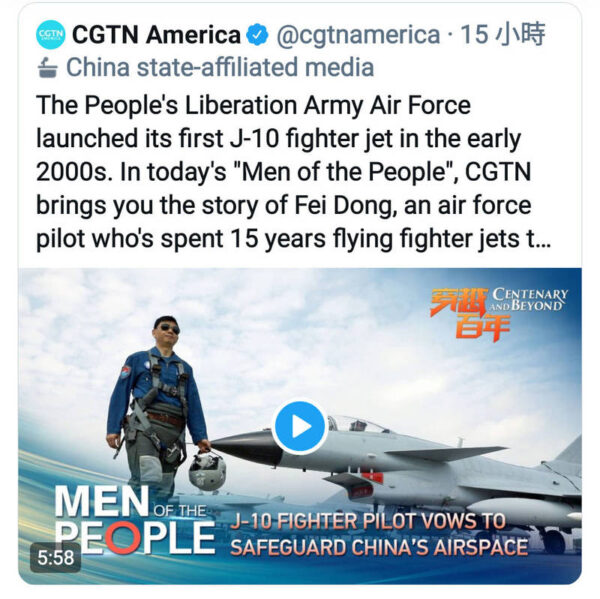 However, sharp-eyed social media users immediately recognized that it used a clip of a video released by the Indian Air Force eight years ago called "Glorious Fighter Launching Missiles." CGTN darkened the color tone of the clip. The incident has been widely criticized and mocked for copying on social media.
1/ #China's #PLA video of a J-10 fighter pilot actually uses #indianairforce LCA Tejas clips as found by @Mave_Intel 😲🤦😲

The #Chinese copycat factory in action!!!

Check at 0:16 time https://t.co/HzieZOJEXV pic.twitter.com/Enjdkpex9k

— Indo-Pacific News – Watching the CCP-China Threat (@IndoPac_Info) June 30, 2021
CGTN quickly removed the video from its Twitter account, but a screenshot of it is still circulating online.
This is not the first time that the communist regime's propaganda channels have been caught using footage from foreign movies, trying to pass them off as real Chinese events.
In 2020, the PLAAF's official account on Chinese social media site Weibo posted a video called "The God of War H-6K Goes on the Attack!" It depicted Chinese H-6K twin-engine jet bombers nicknamed "Gods of War" launching an attack on a target similar to the U.S.'s Andersen Air Force Base in Guam.
Social media users discovered that the video's explosive aerial scenes were taken from Hollywood blockbusters, including "The Hurt Locker," "The Rock," and "Transformers: Revenge of the Fallen."
In 2011, the Chinese state media CCTV aired a propaganda video in its news program to promote the Chinese J-10 fighter jet. It showed the J-10 destroying another aircraft with a missile. Internet users pointed out that it was actually a scene from the 1986 Hollywood movie "Top Gun" starring Tom Cruise.
CGTN was exposed earlier this year by French media for running fake news by a non-existent French journalist in an attempt to whitewash the regime's genocide against Uyghur minorities in China's Xinjiang region.