A Chinese satellite-tracking vessel reportedly arrived at Sri Lanka's  Hambantota port on Tuesday, according to a local news agency, after receiving approval from the island nation's government to dock at the port under certain conditions.
The Chinese vessel, Yuan Wang 5, was initially scheduled to dock in the port from Aug. 11 to Aug. 17 for replenishment but Sri Lanka's government requested a deferral due to India's security objections.
Sri Lanka's Foreign Ministry said in a statement on Saturday that it had approved the deferred arrival of the vessel from Aug. 16 to Aug. 22 after reviewing all materials provided by the Chinese Embassy.
"The following conditions highlighted by the Ministry of Defense were also stated—keeping the Automatic Identification System (AIS) switched on within the EEZ of Sri Lanka and no scientific research to be conducted in Sri Lankan waters," it stated.
The ministry said that Sri Lanka will uphold its "policy of cooperation and friendship with all countries" while placing the security and cooperation of its neighbors as its "utmost priority."
"It is Sri Lanka's intention to safeguard the legitimate interests of all countries, in keeping with its international obligations," it added.
The Yuan Wang 5 departed from Jiangyin, China, on July 13 and was already sailing in the Indian Ocean when the deferral request was submitted. The Chinese Embassy reportedly called for an urgent meeting with top Sri Lankan officials over the delay and requested clearance for the revised dates.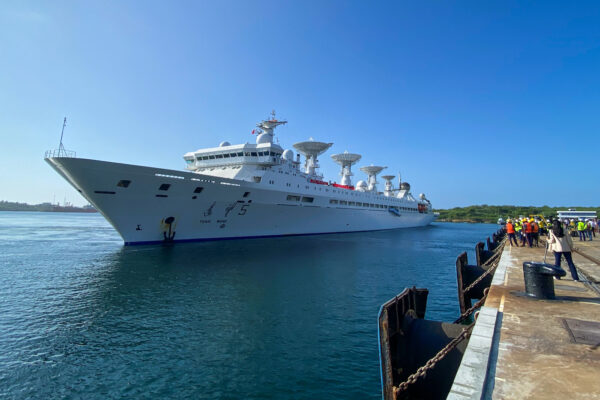 The Hambantota port was leased to China for 99 years in 2017 after Sri Lanka failed to repay $1.4 billion in loans, but India has been concerned that Beijing would use the port as a military base.
New Delhi has increasingly been wary of the growing Chinese presence in its region.
India had earlier warned that it would take "all necessary measures" to safeguard its security and economic interests in relation to Yuan Wang 5 which has been described as a spy ship or more by India's media.
"It is a highly sophisticated missile range instrumentation ship with top-of-the-line antennas and electronic equipment to support the launching and tracking of missiles and rockets," reported CNN-News.18.
Others, such as shipping analytics websites, have called the Yuan Wang 5 a research and survey vessel.
Maritime Surveillance Aircraft
A day before the vessel's arrival, India's government gifted a Dornier reconnaissance aircraft to Sri Lanka to "strengthen the maritime security" of the country.
"Gifting of Dornier aircraft underscores the cooperation between the two maritime neighbors in the defense and security spheres," the Indian High Commission said in a statement.
"Security of #India and #Srilanka is enhanced by mutual understanding, mutual trust and cooperation. Gifting of Dornier 228 is #India's latest contribution to this cause ." High Commissioner Gopal Baglay at the handing over event. pic.twitter.com/x8wa0v8mT6

— India in Sri Lanka (@IndiainSL) August 15, 2022
The aircraft will be used by Sri Lankan navy and air force personnel who received four months of training in India on aircraft operation, according to the Indian High Commission.
The maritime surveillance aircraft is expected to help enhance the security of the Indian Ocean region at large.
"The aircraft would act as a force multiplier, enabling Sri Lanka to tackle multiple challenges such as human and drug trafficking, smuggling, and other organized forms of crime in its coastal waters more effectively," it stated.
"Induction of the aircraft is timely in view of the current challenges to Sri Lanka's maritime security," the Indian High Commission added.