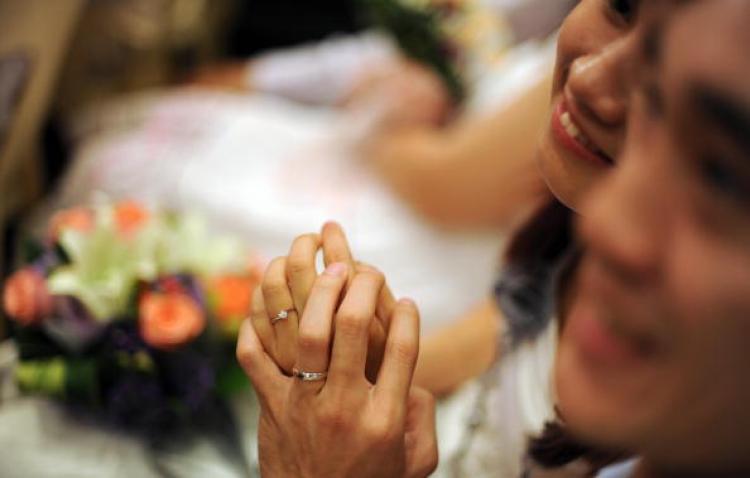 The recent Chinese film "Mr. & Mrs. Single" tells the story of a couple who conceal—sometimes awkwardly—the fact that they are married, so that they can get promotions and higher pay. The plot struck a nerve in contemporary China, reflecting one of the anxieties of modern urbanites.
And couples like "Mr. & Mrs. Single" actually do exist, according to the Evening News. In the cut-throat modern Chinese workplace, female professionals under 35 are better off appearing unmarried. Women with family responsibilities, supervisors seem to think, cannot fully devote themselves to their jobs.
A real life "Mrs. Single" is Ms. Xie, 31, according to the Evening News. Initially Ms. Xie worked in a company where many of her coworkers were promoted after working for two or three years. But not she, despite the fact that she worked hard and took responsibility. She assumed that her marriage was the cause.
She found a new job and pretended to be single: never wearing a wedding ring to work, saying nothing of her family life with colleagues, and actively mixing with unmarried female colleagues. The sleight paid off, apparently. The article says that clients in her industry prefer to imagine that they are working with unmarried women.
Xu Anqi, Director of the Center for Family Studies of Shanghai Academy of Social Sciences, also said that many women hide their marital status to ensure professional success.
But it can get complicated. According to the state-run China News Service, Mr. Chen, the head of the department for foreign markets in a certain company, had to hide the fact that his wife works in the same company. Since company rules forbid marriage among staff, the two kept their relationship under wraps for three years so they could keep their high salaries.
Mr. Chen admitted that serious problems arose due to that peculiar arrangement: Men in his company would court and flirt with his young and beautiful wife, and the two would then quarrel about it at home. And well-meaning friends would try to introduce dates to the both of them, none of which they could easily go on.
Liu Bohong, Deputy Director of the Women's Institute of All-China Women's Federation and Deputy Secretary-General of Chinese Women's Research Society, told Chinese media that there is still gender discrimination in China's job market. Companies don't want to pay maternity leave, and they don't want the hassle of a missing staff member who needs to give birth and bring up a child.

Read original Chinese article.