Chinese Sign Petition to Counter Skyrocketing Housing Prices
February 8, 2007 12:00 am Last Updated: February 8, 2007 12:00 am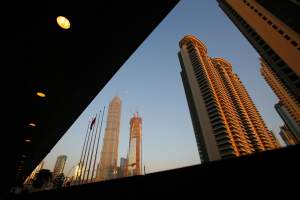 As housing prices continue to rise in China, citizens are fighting back. But it seems real estate developers are ready for the challenge. A group of people in China's Changsha City, Hunan Province, have recently launched a nationwide signature campaign against the hiking of housing prices. However, real estate developers in Shanghai City were quick to respond, proposing jointly hiking housing prices.
The Oriental Morning Post reported that Zhao Zhiqiang, head of the National Association of Individual Cooperative Housing and main organizer of Whenzhou Individual Housing Cooperative, said on January 26 he and his association were launching a signature-collecting campaign to protest rising housing prices. He called it the "One-hundred-million Chinese People Countering High Housing Prices" campaign, and added that the association would come up with a proposition for the individual cooperative housing projects.
He added that they would present the signed petition together with the proposition to the National People's Congress scheduled to convene in early March, 2007.
It was reported that over 40 people attended the launch of the campaign, held at the Junyi Conifer Hotel in Changsha on January 26.
According to the report, the main mover of the Changsha Individual Cooperative House Building Zhou Wenjian, said that in the following days they would set up booths at busy market places in Changsha to collect signatures from the general public and that they would urge people to sign their online petition.
The signature-collecting campaign is expected to be launched successively in about 20 major cities in China by the National Association of Individual Cooperative Housing.
Zhao Zhiqiang also expressed that the country's high housing prices have become a common concern for Chinese citizens, and that this is the fundamental reason for the surge of individual cooperative housing projects in various places.
There are currently over 20 individual housing cooperatives in China, and 17 of them are preparing to join the National Association of Individual Cooperative Housing. The cities joining the association include Beijing, Shanyang, Xi'an, Chengdu, Kunming, Shenzhen, Guangzhou, Wenzhou and Changsha.
Sina.net quoted informed sources as saying that recently some Chinese websites have circulated a document entitled "Real Estate Association's Declaration on Timely Adjustment of Property Risk," which is said to have been signed by 42 real estate developers in the Shanghai area. The report added that although some people have doubted the authenticity of this message, it has caused quite a stir in the society.
The declaration supposedly indicates that the real estate developers that joined the real estate association have promised that they will not lower housing prices, and instead they are actually planning to increase housing prices by two to four percent per month effective December 1, 2007.
Every enterprise that signs the declaration is said to be required to pay 1.26 million yuan (US$162,466) as risk-based deposit insurance which will be confiscated should they break the promise.
As to the reasons for contracting this declaration, the document indicates: "Owing to unusual phenomena in recent real estate sales in Shanghai, many real estate developers have created promotional policies to ensure their vested interests." "In order to maintain the stability and prosperity of the real estate market in Shanghai, Shanghai estate dealers have decided to establish a tentative Shanghai Real Estate Association and stipulated the following regulation and policies…."
The report added that some real estate developers in Shanghai acknowledge the truth of the message, while others don't.