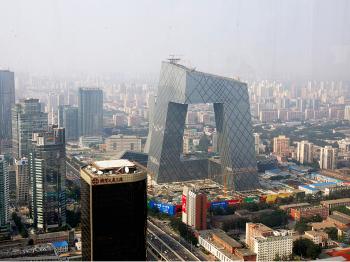 Twenty-two Chinese scholars published an open letter on January 12 to announce their determination to boycott China Central Television (CCTV), China's largest official television broadcaster, in protest of its brainwashing propaganda.
The open letter was initiated by Beijing writer and media professional Ling Cangzhou, scholar and critique Wen Kejian and Beijing attorney Tang Jitian. In the open letter they called for a boycott of CCTV for its information monopoly as well as its poorly made brainwashing programs. The initiators said they hope the letter could raise public awareness of the necessity to see through and refuse the lies glutting CCTV's programs.
The boycott action includes refusing to watch or spread CCTV's news and propaganda or to browse its website.
In an interview with The Epoch Times, Ling Cangzhou said he could not tolerate the CCTV's monopoly of media resources and its disregard for public welfare. A recent example, Ling said, was the CCTV's endorsement for melamine contaminated Sanlu Milk Powder in its news programs.
The scholars also criticized the CCTV's censorship and biased reports. They pointed out that the CCTV has been reporting only news that flatter authorities, while remaining silent on disasters and social conflicts. When reporting international news, on the other hand, CCTV reports always suffer from a decidedly negative bias, the scholars said.
Other than its news programs, scholars said the most abominable CCTV production is its "Spring Festival Gala," an official show consisting of mostly singing and dancing to celebrate the Chinese New Year. "The show is nothing but a huge political brainwashing propaganda event," Wen Kejian said. "Every program of the show is strictly inspected for political 'correctness'." Tang Jitian also said the show veils China's real situations and distorts China's traditional culture.
When mentioning CCTV's employees, Wen said many people he knew are very professional, but under the current system their talents have been used to create and spread lies.
Tang Jitian reminded CCTV employees that their behavior is against China's Constitution, and wished they could follow their conscience and stop assisting CCTV with brainwashing the Chinese people.
Read this article in the original Chinese.