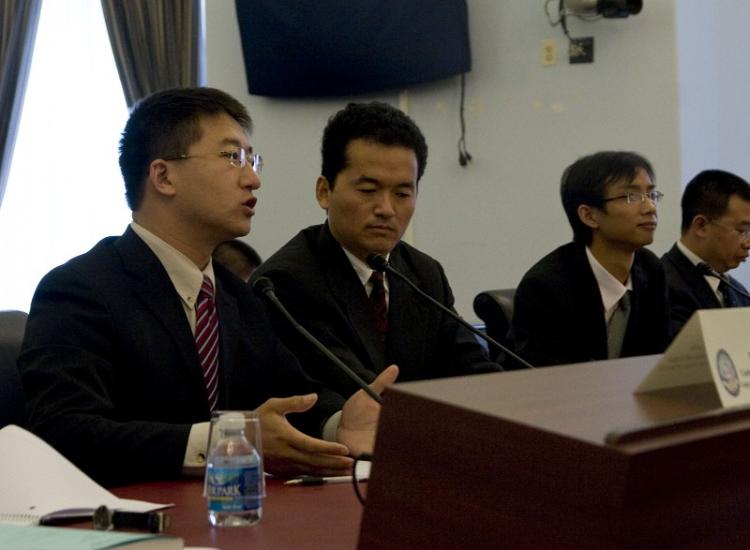 WASHINGTON–The worsening plight of human rights lawyers and religious believers in China was highlighted by mainland Chinese lawyers recently, who testified to update Congress at the Tom Lantos Human Rights Commission Hearing.
Members of house churches still face unlawful harassment and pressure from authorities, according to human rights lawyer Zhang Kai. Zhang spoke at the hearing on Oct. 29, co-hosted by U.S. Rep. Frank Wolf (R-VA), co-chair of the commission, and U.S. Rep. Chris Smith (R-NJ), senior member of the House Committee on Foreign Affairs.
Zhang said religious followers are detained and sent to Reeducation-Through-Labor camps or penalized as criminals, and that courts often fail to file cases, hold trials, or hand down verdicts when lawyers attempt to defend them.
Jiang Tianyong said that lawyers like himself, who defend freedom of belief cases, have been subjected to worsening harassment and persecution by authorities, including being followed by secret police, and prohibited from going outside on politically sensitive days or when foreign leaders visit. Their families may be harassed, or forced to relocate when authorities pressure landlords to stop renting to them.
Jiang, who took on the cases of persecuted attorneys Chen Guangcheng and Gao Zhisheng, has himself been persecuted for being a Christian. On July 9, 2009, the Beijing Municipal Bureau of Justice voided his certification to practice law.
The hearing also discussed the persecution of Falun Gong, a Chinese spiritual practice. Practitioners of Falun Gong in China are not guaranteed the right to a defense lawyer, Jiang said.
"I have found that the suppression of Falun Gong is indeed a serious human rights catastrophe," he said. He has defended nearly 20 Falun Gong practitioners since 2008. "They are arrested simply for practicing, tried for giving others practice books, or sentenced simply for distributing materials that expose the persecution."
Jiang said that authorities dedicate funds, facilities, staff, and equipment to torture this group, and that physical evidence of torture is often obvious in court.
For Falun Gong cases, lawyers are prohibited from using the law, constitution, and human rights to defend their clients, Jiang said.
Chinese authorities attempt to secularize religious issues to reduce international pressure while still depriving citizens the freedom of belief, according to a representative who came on behalf of lawyer Dai Jinbo from Shanxi Province.
He also discussed the authorities' treatment of house churches.
"The destruction of house churches is not just a step back for China's religious freedom, it is… a giant attack on the freedom of all Chinese citizens," he said. "It's seriously preventing China from moving towards liberty and the rule of law."