Australia's Defence Department has detected a high-tech Chinese research vessel off the country's western coast—a strategic sea route near Christmas Island often frequented by submarines.
The oceanographic ship—the Xiang Yang Hong 01—conducted deepwater surveys and travelled through waters in the Australian Exclusive Economic Zone (AEEZ) during the months of January and February, Australian Border Force (ABF) told the Australian Broadcasting Commission (ABC).
"The Department of Home Affairs and the Department of Defence are aware that the Chinese oceanographic ship Xiang Yang Hong 01 [is off] the coast of Western Australia," an ABF spokesperson told the national broadcaster.
The spokesperson said the vessel entered the AEEZ only for the purpose of transiting past Christmas Island.
The 100-metre Chinese ship, reportedly commissioned in 2016, was "undoubtedly" regularly mapping the strategic waters used for submarine travel, a defence official told the ABC on condition of anonymity.
"Beijing is keen to know as much as it can about the water, about these submarine routes, and it would also be wanting to test and monitor the Australian response to the presence of a high-tech Chinese vessel that's loitering off its coast," the official said.
Commissioned with a specific focus on "the field of military oceanography," according to the U.S. Naval War College, the Xiang Yang Hong 01 travelled through the waters at the same time as U.S. submarine USS Texas, which transited at HMAS Stirling naval base outside Perth.
The Xiang Yang Hong 01 is fully automated and can reportedly explore as deep as 10,000 metres with its remote sensing equipment. 
It is not the first time the high-tech vessel has been detected operating in the region. In 2018, Palau asked China to remove the ship from its Exclusive Economic Zone after it was found operating without permit. The vessel was reportedly "dangerously close" to newly-installed submarine cables.
Separate high-tech Chinese ships were also detected mapping waters last April near Papua New Guinea, the ABC found. The two ships—the Ke Xue and Hai Ce 3301—were found near the region around the time that the United States and Australia started to upgrade a naval base on Manus Island.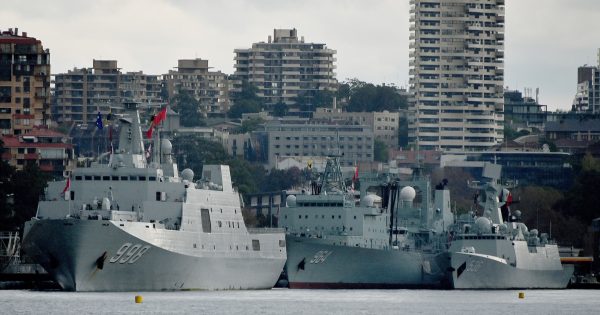 "China's oceanographic, scientific research in the Western Pacific is totally in line with the United Nations Convention on the Law of the Sea and made contributions to maritime scientific study," China's Foreign Ministry spokesman Lu Kang told the ABC at the time.