Chinese Regimes's Illegal Land Grabs and Persecution of Petitioning Peasants
May 13, 2008 12:00 am Last Updated: May 13, 2008 12:00 am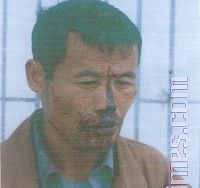 Local authorities in Yingkou City of Northeastern China have illegally grabbed lands from some 10,000 local farmers and used police and criminal gangs to suppress petitioners.
According to local farmers, the authorities illegally confiscated farmland to make place for the Yingkou Economic and Development Zone. Farmers did not receive proper compensation for their lands and demolished homes. When many chose to petition for their rights, the authorities detained and persecuted them with the aid of criminal gangs, and sent many to prison.
The land grab started in 2003 when the authorities forcibly occupied farmland and resident areas of seven villages, evicting 13,437 peasants from their land. The land compensation fee of 200 million yuan (US$ 28.6 million) was also unlawfully embezzled from the peasants.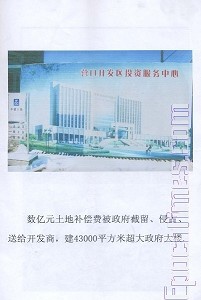 Between 2005 and 2006, another square mile of farmland was seized by the Honghai Development Co. Ltd. owned by the authorities. The Company also skimped on various compensations that should have been offered to the villagers.
In March 2005, without notification, the company demolished villagers' homes that sat along a planned water canal to be constructed for developing local tourism. Compensation standards were not formulated in advance. The villagers, who had lived there for more than a decade, were accused of violating regulations, as they had no building permits for their homes. The company bulldozed the villagers homes with their property still inside despite villagers' desperate screams and tearful pledges.
In December 2005, Sun Jianhai, a village Communist Party Secretary, and Zhao Min, the village's committee director, falsified a report saying that the local per capita land possession was one acre (in reality, it was only 0.3 acre). They illegally sold 918.5 acres (0.25 square mile) of farming lands to the Honghai Development Company, reaping huge profits. Later, the Company re-sold the land to No. 4755 Armament Factory for the construction of commercial and residential buildings.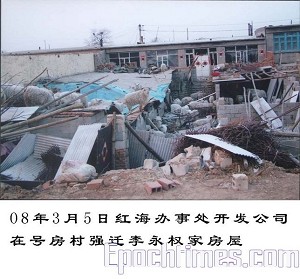 On July 17 to 19, 2006, the local government hired gangsters and dispatched several hundred armed policemen and troops to flatten Donghonghai Village. During the demolition, villagers, females included, were beaten up.
When villagers requested relocation and financial compensation as guaranteed by the law, the local government dispatched police to attack the villagers and detain them. The local authorities also sent around 50 armed gangsters to beat up the villagers, causing severe injuries to many.
The brutality of the demolition was exemplified in the treatment of a villager named Fu Dazhi. Fu's vinery and fruit-growing canopy were forcibly occupied. The one million yuan (US$143,000) compensation fee and 180,000 yuan ($ 26,000) relocation fee were both peculated from him. His family of seven was left nothing to live on. Fu's despaired elder brother committed suicide by taking poison. His son-in-law Piao Chengzhe was forced to flee, and his whereabouts are still unknown.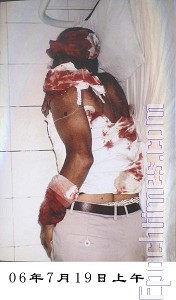 Since July 2006 the farmers have been petitioning to higher authorities, including the central government in Beijing. So far, their requests for help have fallen on deaf ears.
In February 2007 18 villagers from Donghonghai village, including Mr. Liu and Mr. Diao, were illegally arrested when attempting to petition in Beijing, Another villager Ma Jie was beaten severely enough that several of his bones were fractured.
"We, over 2,000 villagers, have nowhere to appeal and no place to live. We appealed to the central government seven times, and we were either detained or put under around-the-clock surveillance after being sent back here each time," said a villager surnamed Li.
Most of the villagers in Haixing Village subsist on fishing. They were asked to move on March 5, 2005; however, this was rejected by the villagers due to an unreasonable compensation system. On May 12, 2005, the local government deployed 20 to 30 police to break into the properties of Yin Dechen and Yu Liqing at midnight. They were sentenced to two years in prison on the charges of "gathering a mob to attack government agencies." In addition, three other villagers including Liu Hongmei and Ye Qingbin were arrested and sentenced to eight months in jail.
On June 5, 2006, the local government sent public security officers, together with paid hooligans, to demolish the properties of five villagers, including Yin Guangying, Yin Sufen and Li Hai. These five households didn't receive any compensation nor were they assisted with relocation. This has led to the breakdown of these families and the death of some family members. However, they have nowhere to appeal.
The villagers are desperate. "I have no idea how these things will end," said Fu Dazhi. "Someone's offering a large award for taking my life. But I don't care. I only wish justice will be done." A farmer who lost his land said, "Since party disciplines and national laws are not applied here, corrupt officials have colluded with land developers and thugs. We are absolutely helpless. As a minority group, we can only resort to fight in order to survive. If we do not fight, we can only wait for death. Therefore, we are longing for help and support from outside."
The villagers added that during the period of less than two years after their lands were forcibly appropriated, the authorities have not helped them to relocate in accordance with national laws, nor did they provide them with social welfare assistance. Due to the terrible hardships, four villagers jumped from rooftops and several others took poison to commit suicide.
A villager surnamed Liu said, "Now that our lands have been appropriated without compensation, some rent an apartment to live, while others just live in tents. However, the district government has constructed luxurious office buildings with the area of 43,000 square meters (0.5 million square feet) over the past two years. In addition, they threatened us that if we continue to petition, they would hire someone to kill us at the price of 200,000 yuan ($28,600) for each.