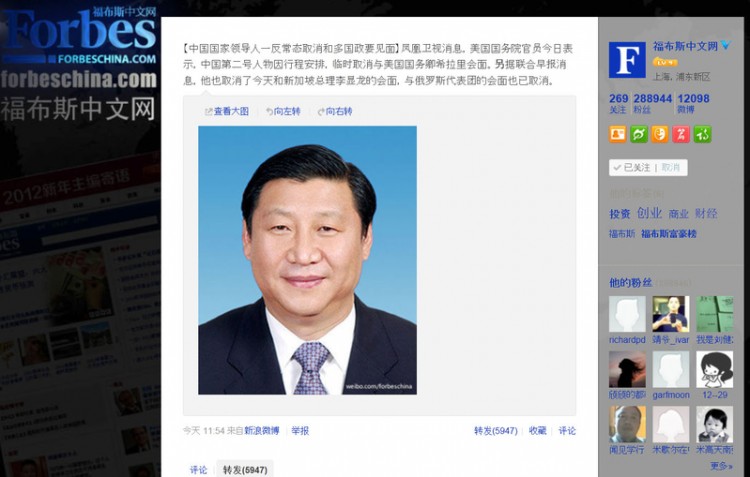 China's next likely leader, Xi Jinping, suddenly canceled a meeting with U.S. Secretary of State Hillary Clinton due to unspecified reasons on Sept. 5. 
Mentions of Xi's absence caused ripples through Chinese social media sites, most prominently on the Sina Weibo microblogging service. Searches of his name were already restricted, but authorities apparently had deleted some posts about the matter that had been made, for example by Forbes' China Weibo feed. 
Xi was said to have hurt his back and told Clinton Tuesday night that he could not meet with her. He also canceled other meetings, including one with Singaporean leader Lee Hsien Loong and one with Russian diplomats, according to the Wall Street Journal.
Chinese experts took note of the cancellation and saw it as unprecedented. 
Shi Yinhong, an expert on U.S.-China relations at Renmin University in Beijing, said that such a sudden cancellation has never happened in the history of China-U.S. relations, "even in the Mao Zedong era."
The Chinese foreign ministry told media outlets to not make "arbitrary guesses" as to why Xi did not meet with Clinton.
Xi is the current vice chairman of the People's Republic of China but is almost certain to take over as the leader of the ruling Chinese Communist Party during the 18th Party Congress slated to take place in the fall.
Clinton is visiting China as part of a two-week long tour through Asia, with her focus primarily on disputes in the East and South China Seas. 
China has feuded with Japan, Vietnam, and the Philippines over several rocky islets in the two regions that are believed to have large quantities of oil and natural gas.
Clinton met with current paramount leader Hu Jintao on Wednesday and Foreign Minister Yang Jiechi on Tuesday. All the while, Chinese state-run media criticized the secretary of state and the U.S. for trying to intervene in the East and South China Sea squabbles, accusing it of meddling in other countries' affairs.
The states in territorial disputes should create a "code of conduct," Clinton reiterated on Wednesday.
The interest of the United States "is in the maintenance of peace and stability, respect for international law, freedom of navigation, and unimpeded lawful commerce," she said, according to a transcript. She maintained the United States has no position on competing territorial disputes.
Read the original Chinese article.
The Epoch Times publishes in 35 countries and in 19 languages. Subscribe to our e-newsletter.
Click www.ept.ms/ccp-crisis to read about the most recent developments in the ongoing crisis within the Chinese communist regime. In this special topic, we provide readers with the necessary context to understand the situation. Get the RSS feed. Who are the Major Players?