The Chinese Communist Party (CCP) has extended its "racism" row with Australia issuing warnings of "multiple incidents" of racial discrimination against Asian students during the CCP virus pandemic. The accusation comes as the Chinese regime attempts to leverage recent race riots to divert global attention away from its political moves related to Hong Kong.
On June 9, the CCP's Ministry of Education issued a warning to Chinese international students that Asians in Australia were experiencing "multiple incidents" of discrimination.
While a few days before, the Ministry of Culture and Tourism claimed there was a "significant increase" in discrimination and "violence" against people of Chinese or Asian descent.
Australian ministers have rejected the accusations, with Minister for Education Dan Tehan issuing a statement, saying: "We reject China's assertion that Australia is an unsafe destination for international students."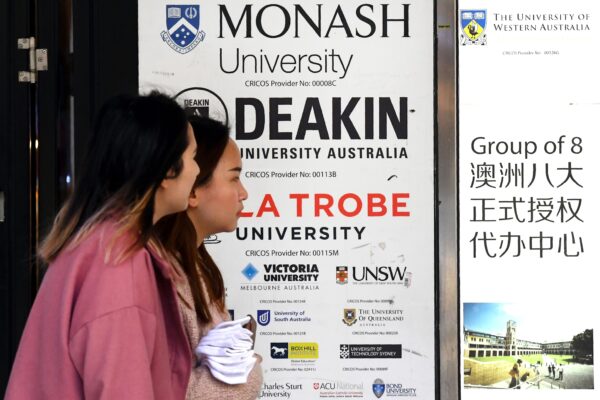 "Australia is a popular destination for international students because we are a successful, multicultural society that welcomes international students and provides a world-class education," said Tehan.
Michael Shoebridge of the Australian Strategic Policy Institute told The Epoch Times that in light of the recent anniversary of the Tiananmen Square massacre (June 4), the communist regime's calls of racism were "particularly hollow and hypocritical."
"Until Beijing atones for its military massacre of its own citizens, it cannot expect credibility in criticising others," said Shoebridge.
In June last year, the Chinese regime's defence minister, General Wei Fenghe called the massacre a "correct policy."
At the end of May, Beijing faced international condemnation and heavy sanctions from the United States in response to its passing sweeping national security laws over Hong Kong.
Shoebridge said Beijing would be "relieved" at the recent global outcry and civil unrest over George Floyd's death in Minnesota, as it has given the CCP a chance to be on the "front foot."
However, he said, "It's all a bit too nakedly self-serving from Beijing to have a real impact."
U.S. Secretary of State Mike Pompeo issued a statement on June 6 lambasting the CCP, saying its attempts to leverage the protests were "laughable propaganda and should not fool anyone."
"In China, when a church burns, the attack was almost certainly directed by the CCP," he said. "In America, when a church burns, the arsonists are punished by the government, and it is the government that brings fire trucks, water, aid, and comfort to the faithful."
On May 30, the Chinese state-owned media, Global Times, a vocal commentator on regime-related issues, published a commentary titled, "Watch out! 'Beautiful sight' in HK is spreading across the U.S."
The Global Times has recently set its sights on Australia. On June 10 it published alleged "evidence" of racism in the country, claiming Chinese business owners were "targeted" and found "racist slogans outside their shops and restaurants" and their properties "vandalised."
The publication also claimed it interviewed a dozen Chinese students enrolled in Australian universities, and they "detected an obvious racist trend through social media and were reconsidering their study plans. They deemed the education alert quite reasonable."
The ministry and Global Times' statements are the latest episodes capping off a long-running dispute with Australia involving various trade actions taken against the country.
The issues began when Foreign Minister Marise Payne called for an inquiry into the origins of the CCP virus, commonly known as novel coronavirus, in April.
Australian ministers, however, have been at pains to handle the myriad of trade and diplomatic issues separately, and avoid linking them together. Nor do they want Australia to engage in "tit for tat" politics with the CCP by implementing counter-sanctions.
Yet, the Global Times published an editorial on June 9 attempting to lay the blame at Australia's feet, saying Australia's "unfriendly attitude" is what will "really scare away Chinese tourists and students."
"From its push for a US-led inquiry into COVID-19, to its interference in the Hong Kong affair, and the upcoming overhaul of its foreign investment rules that are expected to tighten scrutiny over foreign investment, Australian politicians are demonstrating their antipathy toward China," wrote the editorial team at the Global Times.
"If Australia wants to retain the gain from its economic ties with China, it must make a real change to its current stance on China, or it will completely lose the benefits of Chinese consumers," the Global Times wrote.