Chinese Regime's Infiltration Threatens Taiwan's Sovereignty
October 7, 2011 1:55 am Last Updated: October 1, 2015 3:26 pm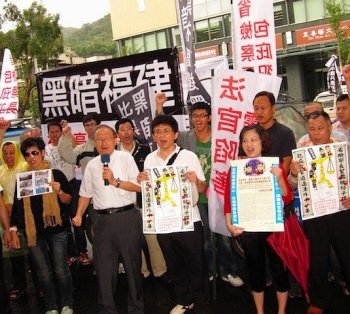 A number of recent incidents highlight the degree to which the Chinese regime interferes with Taiwan's internal affairs, violating its sovereignty and democracy.
At a Sept. 29 press conference, a group of Taiwanese business people said they were scammed out of their investments in China. On top of that, after staging demonstrations in Taiwan recently, they received threats from Chinese officials.
Huang Hsi-tsung and Shen Po-sheng said they organized a series of demonstrations to expose the Chinese Communist authorities' deceiving Taiwanese businessmen in China and illegally confiscating their property. They urged other Taiwanese businessmen not to invest in mainland China.
Mr. Huang said for two days in a row, he received phone calls from an official of the People's Procuratorate of Fujian Province, warning him not to hold these demonstrations, or else he would be retaliated against, and someone would come to Taiwan to collect evidence and stop him.
Democratic Progressive Party Legislator Tsai Huang-liang criticized the Chinese regime's interference in Taiwan's internal affairs, saying it violates Taiwan's sovereignty and democracy.
Politician Pressured
Not only Taiwanese businessmen, politicians are also being interfered with by Beijing's officials.
Taiwan's presidential candidate, James Soong Chu-yu, said Chinese Communist officials have pressured him to withdraw from the race because his candidacy jeopardizes Taiwan president Ma Ying-jeou's reelection. Soong said he has no intention of doing so, BBC Chinese reported on Sept. 28.
Network of Spies
Intelligence gathering, which includes the recruiting of Taiwanese nationals, is another channel the Communist regime employs to infiltrate and undermine Taiwan's sovereignty.
Taiwanese Wu Chang-yu, an associate professor at Central Police University in northern Taiwan's Taoyuan County, was arrested on Sept. 30 by Taipei District Court for allegedly collecting and providing data to Chinese Communist authorities about human rights activists, Falun Gong practitioners, and Tibetan independence advocates in Taiwan.
Taipei prosecutors also said that they had interviewed two policemen from the National Police Bureau's Foreign Affairs Department for allegedly helping Wu with his information gathering, and that there were other public officials who were involved.
The report said that the National Police Bureau has routinely retained information about activities by foreigners and mainland Chinese in Taiwan, and generated periodic reports. Chinese human rights activists, Falun Gong practitioners and Tibetan independence advocates are the main targets of this reporting.
Wu obtained information through the two policemen at the Foreign Affairs Department, who are also Wu's students. He would then pass the information across the strait, the report said.
2012 Elections
Yuan Hongbing, an exiled Chinese writer and law professor now living in Australia, commented about these recent incidents during a lecture in Taipei on Oct. 1, saying they show that the Chinese Communist Party's (CCP) United Front efforts have already infiltrated deeply on all fronts, starting with cultural and economic integration, and eventually leading to political integration of Taiwan.
Yuan has been ringing a warning bell for a number of years, saying the CCP plans to completely control Taiwan politically by 2012 or 2013. He said he is very concerned by such serious threats on Taiwan's sovereignty, and worries that most Taiwanese politicians have not yet realized the urgency.
"The 2012 Taiwan presidential elections are very important. The CCP will manipulate them through political, economic, cultural, and religious means," Yuan told an audience in Queensland earlier this year.
"Taiwan's future depends on how Taiwanese act at this critical time when their country is cornered," he added.