"Luosifen" is a famous noodle soup dish flavored with river snails, originating from China's Guangxi region. In recent years, it has gained international popularity through Chinese restaurants and instant noodle products sold in immigrant communities around the world.
A series of leaked government documents obtained by The Epoch Times reveal that the Chinese regime has been using the dish to advance its agenda: make sure Chinese immigrants in the United States and Canada toe the line; and promote the Belt and Road Initiative (BRI), a plan to build infrastructure projects in parts of Asia, Africa, and Europe.
In documents from the government of Liuzhou city—where the dish was first invented—authorities outlined the Chinese Communist Party's (CCP) plan to use luosifen as a tool to push forward its United Front strategy in the United States and Canada. The Party's United Front Work Department is charged with overseeing the Party's foreign influence operations and coordinates and supports thousands of overseas organizations to spread propaganda, influence local elites, and suppress dissident groups.
The Liuzhou government suggested sending a delegation to the United States and Canada to promote the noodle dish.
A 2018 internal government report stated: "We must broadly unite overseas Chinese by promoting Liuzhou's famous luosifen as an excellent business card to reach out to the United States and Canada; and use it to strengthen the bond with both old and new overseas Chinese and Chinese associations in those countries, to fully utilize their natural advantages in promoting and implementing BRI."
The BRI, also known as One Belt, One Road, has been criticized by Western officials for placing developing countries under massive debt. Beijing has also used BRI projects as a form of economic pressure, with some governments adopting pro-Beijing policies after signing onto the scheme.
The Liuzhou government analyzed several large cities in the United States and Canada, and suggested different strategies on how to reach local communities and promote the CCP's United Front work through setting up luosifen restaurants.
For example, the document analyzed the demographics of Canada's capital, Ottawa. It stated: "The promotion of luosifen will also relieve the overseas Chinese people's 'homesickness' here, sending them love from the motherland and Liuzhou at the same time, which will enable our overseas United Front work to be more diverse and rich in content."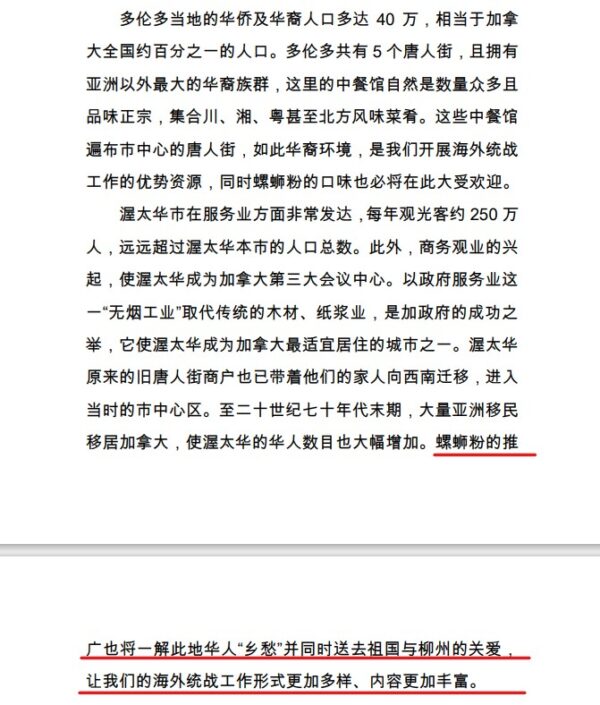 Another document, titled "Main Achievements in Liuzhou's Foreign Affairs Work During the 13th Five-Year Plan," was issued by the Liuzhou Foreign Affairs Office in 2020. It showed the extent of the Liuzhou government's outreach efforts in promoting luosifen across the globe last year.
According to the document, Liuzhou has set up a total of "224 distributors and 753 outlets" for selling luosifen, spanning 127 countries, achieving "full coverage of countries along the BRI corridors and all the ASEAN sister cities of Liuzhou." ASEAN is the Association of Southeast Asian Nations.
It also stated that total exports of packaged luosifen instant noodles manufactured in Liuzhou during the first half of 2020 were valued at 7.5 million yuan (about $1.15 million).
State-run media Guangming Daily reported on Nov. 4, 2020 that netizens ranked luosifen as the top "cultural" item to represent Chinese culture.
A third document, issued by the Foreign Affairs Office within Liuzhou's CCP Committee on Aug. 17, 2020, revealed that promoting luosifen was ordered by central and local government agencies. The document called for the support and cooperation of local government offices for filming and producing the eighth episode, second season of the reality show "Kung Fu Apprentice" in Liuzhou. That episode focused on Liuzhou's luosifen industry.
The report also revealed that "Kung Fu Apprentice" is a project jointly invested by Chinese video platform Mango TV and Discovery China, the Discovery Channel's China division. The show's production is supervised by the State Council Information Office, and supported by the Party's Propaganda Department.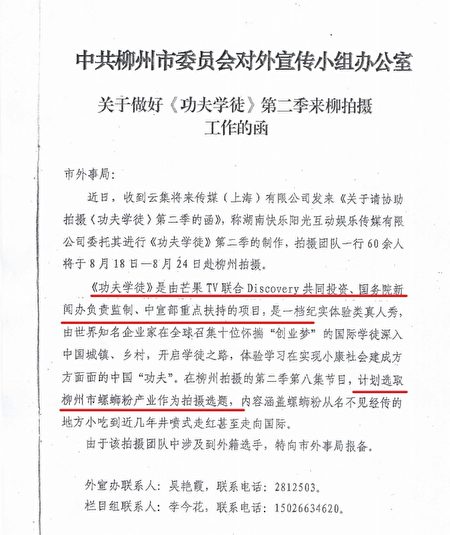 CCP authorities stated that luosifen-making was an "emerging strategic industry."
Another leaked document showed that local officials were sent on special trips to promote the dish to foreign governments and associations. The report was about a Chinese official's visit to the United States and Canada in May and June 2018, and showed that Liuzhou had sent the delegation. The group consisted of six people and was headed by Xiang Jun, then-head of Liuzhou's United Front Work Department.
Based on their itinerary, the delegation spent eight days in both countries. For two days, the group promoted Liuzhou and its famous noodle dish to the San Fernando Valley International Trade Association in Los Angeles and San Francisco's municipal government.
U.S.-based current affairs commentator Li Linyi said that luosifen has now become a method for the CCP to boost China's economy.
U.S. Secretary of State Mike Pompeo has previously sounded the alarm on the CCP's United Front campaigns.
In a speech given at the Wisconsin state capitol in September last year, he called the United Front "CCP's official overseas propaganda tool. It's one of the CCP's three 'Magic Weapons,' in the words of Chairman Mao [Zedong], along with 'armed struggle' and 'party-building.'"
Recently, the U.S. government also imposed visa restrictions on United Front Department officials "who have engaged in malign foreign influence activities to co-opt and coerce those who oppose Beijing's policies," including denying them entry into the country.
Gu Qing'er contributed to this report.