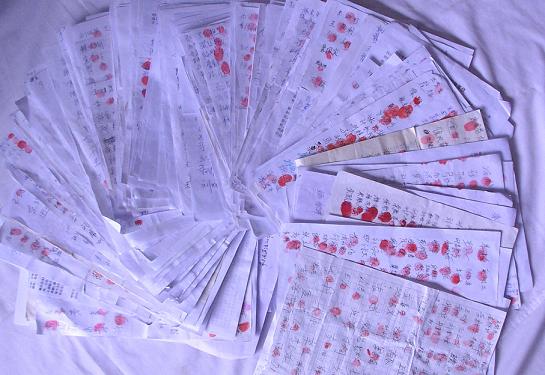 Communist officials in northeastern China have approached the daughter of a Falun Gong practitioner who was tortured to death, attempting to buy her silence, according to an individual familiar with the matter.
The daughter, Qin Rongqian, refused the offer of a quiet payout, and continues to persist in pressing legal measures against the persecutors of her father. 
Her father, Qin Yueming, was killed by prison guards in February 2011 because he practiced Falun Gong, a spiritual discipline based on the principles of truth, compassion, and tolerance, that is persecuted by the Communist Party.
The daughter contacted well-known civil rights lawyer Jiang Tianyong; she pushed for compensation against the authorities (it was refused) and together with Jiang began litigation in Heilongjiang, the home province of the family, against the persecutors. 
The Superior Court of Heilongjiang Province failed to respond to the case filed by Jiang in 2011, so the pair went to Beijing to petition. Now, many months after the initial litigation was started, officials approached Qin Rongqian to "settle the matter in private," according to a well-placed source who was familiar with the discussion. 
This tactic differs from the regime's usual practice toward Falun Gong—to "ruin their reputation, bankrupt them financially, and destroy them physically," as originally directed by Jiang Zemin—and could be a sign of uncertainty on the part of those involved in the campaign, as to whether it still has political currency, or whether it will remain a priority for the new Xi Jinping leadership.
Those who engaged in severe human rights abuses against Falun Gong practitioners are now unsure of the new leadership's stance on the persecution, and are afraid they may be held accountable for their crimes or made scapegoats, Zhang Sutian, an analyst of Chinese political affairs, told The Epoch Times. 
Former security czar Zhou Yongkang, one of the main culprits in the persecution of Falun Gong, was recently removed as head of the Political and Legislative Affairs Committee, and retired from the Politburo Standing Committee. 
This shakeup in the top echelon of the CCP made some of the lower-level officials anxious about the status of the campaign, according to Zhang.
This was exemplified recently in Hebei Province, when high-ranking officials with the 610 Office wrote a letter of apology to the children of a number of senior Communist Party members who were persecuted for their practice of Falun Gong.
An Extraordinary Case
After Qin died in prison, his wife Wang Xiuqing and daughter Qin Hailong were determined to learn the truth about his death but the regime sentenced them both to 1.5 years in Qianjin Labor Camp in Harbin, Heilongjiang Province.  
With the help of several lawyers, Qin Yueming's other daughter Qin Rongqian managed to file a lawsuit against the government and judiciary departments responsible, and demanded an investigation into the cause of her father's death. 
She also collected signatures and thumbprints from 15,000 residents in northeastern China's Heilongjiang Province in a petition that urges the communist regime to investigate her father's case and to free her imprisoned mother and sister.
"Every signature and thumbprint of yours, your kindness and attention to the matter, will help my family find justice for my father and freedom for my sister and mother," Qin wrote in her petition.
In Chinese culture, thumbprints are traditionally made on the occasion of swearing oaths and signing contracts.
Qin Yueming's death has been exposed outside of China, and has been covered by some overseas media. The case has also caught the attention of international organizations such as Amnesty International.  
Unusual Tactics
Under the escort of local police, the director of Jinshantun 610 Office in Yinchun City, Qin Handong, came to see Rongqian on Oct. 14, 2012.
"I'm just paying a visit because the 18th Party's Congress will be held soon. I'd like to settle the case in private as soon as possible," he was reported as saying by a person familiar with the conversation.
However, Qin Rongqian was not interested in his proposals and refused to give up seeking justice. 
On Oct. 19, two representatives from the Heilongjiang Province's 610 Office, claiming to be "specialized in psychological research and dedicated to transforming Falun Gong," visited Qin's wife and other daughter in Qianjin Labor Camp.
The representatives said they would help the women handle the case, and could also facilitate their release. But both mother and daughter refused to cooperate.
On Oct. 26, four more representatives, including the labor camp director, Wang Yaluo, met with the women. 
"Look, the 18th Party Congress is about to begin, we'd like to finish processing Qin Yueming's case rather sooner than later," they were quoted as saying by the insider.
"We can help release you, help with your housing in [Jinshantun in Yichun], and give all three of you jobs that you will never have to worry about losing."
When the director saw the two women were not open to this plan, he proposed giving them parole so they could discuss the matter with Qin Rongqian, Qin's other daughter. 
"I can give you 10 days' parole, and you only have to return if it doesn't work out," Wang Yaluo said. 
Meanwhile, the director of the Compensation Office in Heilongjiang Provincial Superior Court, Zhang Yinfeng, also pleaded with Qin's wife to settle the case by means of compensation. He suggested it could be handled like the case of another Falun Gong practitioner, who was tortured to death after 29 days of incarceration, and whose family received 840,000 yuan (US$135,000) as compensation. 
"Please consider it. You can call me anytime you want. My door will always be wide open for you," he said to them, according to the source.
The source says that Qin Yueming's family believe the overtures are the result of corrupt Party officials feeling under pressure, worried about whether the campaign has legs. They don't plan on taking up any of the offers.
Read original Chinese article. 
The Epoch Times publishes in 35 countries and in 20 languages. Subscribe to our e-newsletter.
Click www.ept.ms/ccp-crisis to read about the most recent developments in the ongoing crisis within the Chinese communist regime. In this special topic, we provide readers with the necessary context to understand the situation. Get the RSS feed. Who are the Major Players?