Chinese Regime Repatriates Arrested Taiwanese Amid Propaganda Claims
August 12, 2012 8:18 pm Last Updated: October 1, 2015 12:38 pm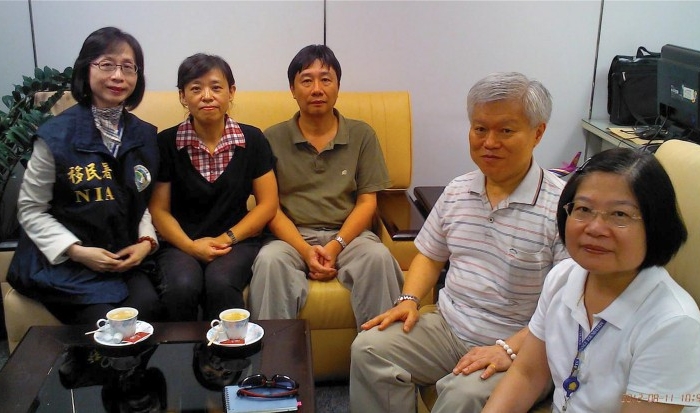 The Chinese regime often arrests Taiwanese in China—most notably investors and businessmen who get into commercial disputes—and holds them in its jails sometimes for long periods of time. But after the recent arrest of Taiwanese businessman Chung Ting-pang, it was less than two months before the regime decided that sending him home was preferable to keeping him.
But not before reporting that Chung had "confessed to all the facts of his illegal crimes without hiding anything," and revealed information about other "suspects," according to Xinhua, the regime mouthpiece.
Chung Ting-pang, a practitioner of Falun Gong (also known as Falun Dafa), a spiritual practice that is persecuted by the Chinese Communist Party (CCP), had gone to Jiangxi Province in southeastern China to visit family in June. He was taken into custody there on June 18, and authorities accused him of attempting to hack into television broadcasts. Supporters suspected the claim was made-up.
Upon his release Xinhua also patted the communist security force on the back: "The relevant departments have decided to treat the case leniently, asked him to sign a repentance statement, and repatriated him to Taiwan."
The parting jab was "just an attempt to justify their arrest of Mr. Chung. That's the sole purpose," said Erping Zhang, a spokesperson with the Falun Dafa Information Center, the practice's press office.
"There was no transparency, and Mr. Chung was given no legal representation. He was coerced, and no one knows what happened," Zhang added. The theater of forced confessions has also long been part of Chinese communist rule.
But state media held up a confession anyway, as though to declare victory. Chung may have been tortured into confessing to alleged crimes, or the alleged confession may have been fabricated entirely, Zhang said. "It's disgusting. … It's an illegal procedure to begin with," he added, referring to the way Chung was scooped up and detained.
"They did not expect such a strong international reaction, especially in
Taiwan
," Zhang said.
Protests and parades had been held in Taiwan since the detention in late June. Chung's daughter, the recent university graduate Chung Ai, was often the public face for the campaign, which in Taiwan brought together a coalition of civil rights groups who campaigned for Chung's release.
Outside of Taiwan, Amnesty International called into question the arrest, and said that Chung should be released (unless he had actually committed a crime).
A spokesperson for the office of President Ma Ying-jeou, Fan Chiang Tai-chi, on Aug. 9 told local media that President Ma is paying close attention to Chung's case, and that the administrative department should "actively strive" to gain his release.
It is unclear, though, whether the case was a success of pressure put on the regime by the Ma administration, or because of the voice that the global Falun Gong and human rights community was able to generate over the affair.
Michael Fonte, a liaison officer in Washington, D.C., for Taiwan's opposition Democratic Progressive Party, expressed doubts as to whether the Ma administration had applied much direct pressure on the Chinese side, particularly given that the Taiwanese failed to wring several important concessions in cross-strait investment covenants recently.
"It seems like the pressure from Falun Gong practitioners in Taiwan and around the world have created a context whereby it was better to let him go than keep him," Fonte said in a telephone interview Sunday.
The Taipei Times, usually identified as being "pro-Green," or sharing sympathies with the opposition Democratic Progressive Party, followed Chung's case closely.
In an editorial on Aug. 11 the paper wrote: "In reality, what the case really illustrates is the wayward nature of China's legal system and the secretive nature of cross-strait dispute resolution."
The Epoch Times publishes in 35 countries and in 19 languages. Subscribe to our e-newsletter.
Click www.ept.ms/ccp-crisis to read about the most recent developments in the ongoing crisis within the Chinese communist regime. In this special topic, we provide readers with the necessary context to understand the situation. Get the RSS feed. Get the new interactive Timeline of Events. Who are the Major Players?