Chinese Regime Nipping Third Jasmine Protest in the Bud
March 8, 2011 9:18 pm Last Updated: October 1, 2015 5:25 pm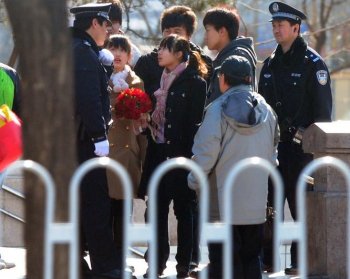 China's third round of Jasmine protests took place in over 40 cities on March 6 while the National People's Congress and the Chinese People's Political Consultative Conference (CPPCC) National Committee meetings were underway. Police turned out in large numbers surrounding all potential protest locations. Foreign reporters were strictly forbidden.
Beijing's Wangfujing and Xidan shopping districts were among the locations where mass gatherings were planned via online messaging. As large numbers of police in uniforms and plain clothes showed up on March 6, foreign tourists had to show their passports in order to enter the shopping districts. Cellular and SMS service in the area were cut off, Hong Kong's Mingpao reported on March 7.
A call to Peking University and Tsinghua University students to gather outside Hailong Market in Zhongguancun area around noon time on March 6 put school officials and the Beijing authorities on edge, Hong Kong's Apple Daily reported on March 7.
At Peking University only students and faculty were allowed to enter and students were not allowed to leave school premises; student committee members warned students to not casually post messages online, since the Internet was being monitored. Security was tightened around midday on March 6. Several police wearing earphones could be seen on campus as helicopters circled, according to the report.
An online video posted by Hong Kong media showed helicopters circling above the Zhongguancun area in Beijing, while police in plain clothes out-numbered civilians. Even the Zhongguancun subway stop was temporarily closed. The Hailong Market was guarded by pro-regime activists wearing red arm bands. Groups of soldiers kept the streets free of potential troublemakers, running rather than merely marching.
In Taiyuan city Shanxi province students were not allowed to leave the campus and even military jets were used for surveillance, the Apple Daily report said.
About 200 police showed up at the protest location in Shanghai around 2 p.m. and began dispersing people. The police detained about a dozen German and Japanese journalists for three hours, Germany's Deutsche Welle reported on March 6.
A man was arrested on Tiananmen Square for holding a sign saying "the Chinese Communist Party Must Step Down," Deutsche Presse Agentur (DPA) reported on March 5.
Several net users complained that the regime's reaction to the Jasmine movement was difficult to fathom. Even real jasmine flowers are banned in flower shops and people are not allowed to get on the subway if they hold any type of flower. Subway security guards said it was a direct order from higher authorities.
On March 5, Party newspapers in Beijing and Shanghai began publishing several commentaries saying the Jasmine movement is triggered and incited online by those "with ulterior motives" both abroad and domestic.
An Apple Daily article commented that those articles closely resemble an editorial published by People's Daily on April 26, 1989. The 1989 editorial stated that "a very few individuals with ulterior motives used students to create turmoil," foreshadowing the subsequent Tiananmen Square massacre on June 4, 1989.