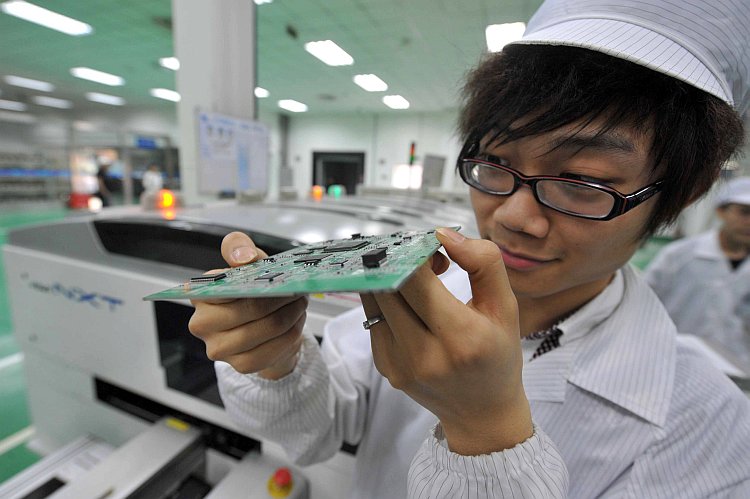 A recent study found that a U.S. military chip manufactured in China—widely used in systems for weapons, nuclear power plants, and public transport—contains a built-in backdoor that allows the Chinese regime access to critical U.S. systems.
"In other words, this backdoor access could be turned into an advanced Stuxnet weapon to attack potentially millions of systems. The scale and range of possible attacks has huge implications for national security and public infrastructure," writes security researcher Sergei Skorobogatov on his blog. Skorobogatov is from U.K.-based Hardware Security Group at the University of Cambridge, the group that conducted the study.
The Stuxnet weapon he refers to was a piece of malware that was able to physically destroy nuclear centrifuges at an Iranian nuclear plant.
Going off claims from some of the world's top intelligence agencies—among them MI5, NSA, and IARPA—that computer chips could be preloaded with potentially devastating malware, Hardware Security Group decided to put this to the test.
"We chose an American military chip that is highly secure with sophisticated encryption standard, manufactured in China," Skorobogatov said. They used a new form of chip scanning technology to "see if there were any unexpected features on the chip."
"U.K. officials are fearful that China has the capability to shut down businesses, military and critical infrastructure through cyber-attacks and spy equipment embedded in computer and telecommunications equipment," he said, noting, "There have been many cases of computer hardware having backdoors, Trojans, or other programs to allow an attacker to gain access or transmit confidential data to a third party."
Their complete findings will be published in September, in a paper called "Breakthrough silicon scanning discovers backdoor in military chip," which Skorobogatov says "will expose some serious security issues in the devices, which are supposed to be unbreakable."
The chip scanning technology is still relatively new, and thus, studies such as this are few and far between. Skorobogatov notes that 99 percent of chips are manufactured in China, and the prevalence of such malware is something he and his research group would like to investigate further.
Even so, the issue of the Chinese regime planting malware in exported technology is not unknown.
Back in July 2011, Greg Schaffer, acting deputy undersecretary of the Department of Homeland Security (DHS) National Protection and Programs Directorate, testified before the House Oversight and Government Reform Committee.
After being pressed with questions around this, Schaffer admitted he was "aware of some instances" of foreign-made software and hardware being purposely embedded with malware, The Epoch Times reported.
Rep. Jason Chaffetz (R-Utah) continued pressing Schaffer on this, and after trying to avoid the question or give vague responses several times, Schaffer admitted that he was aware of this happening, and said, "We believe there is significant risk in the area of supply chain."
"This is one of the most complicated and difficult challenges that we have," Schaffer said. "There are foreign components in many U.S. manufactured devices."
Few details have been revealed since. Yet, in April 2011, the Commerce Department sent a survey to U.S. telecommunication companies—including AT&T Inc. and Verizon Communications Inc.—demanding "confidential information about their networks in a hunt for Chinese cyberspying," Bloomberg reported in November 2011.
Built-in Spying
Among the information requested were details on foreign-made hardware and software on company networks, and it asked about any findings of "unauthorized electronic hardware" or anything else suspicious, Bloomberg reported.
There seemed to be a tight lid on this, even then. A senior U.S. official spoke to Bloomberg on anonymity, noting, they report, "The survey represents 'very high-level' concern that China and other countries may be using their growing export sectors to develop built-in spying capabilities in U.S. networks…"
This was further exposed a month later by author and freelance writer Robert McGarvey, reporting for Internet Evolution. He was told by Don DeBolt, director of threat research at the New York security-consulting firm Total Defense, that "China has been bugging our computers for a long time," and "We have seen cases where malware is installed at the BIOS level. Security suites do not detect it." Computers all have a BIOS (Basic Input/Output System) chip that is sometimes hard-coded, meaning they can only be written once and contain information about the system's hardware.
And just recently, on April 29, former U.S. counterterrorism czar Richard Clarke, who now runs his own cybersecurity firm, told Smithsonian Magazine that such Chinese malware even exists at the consumer level—in shocking prevalence—stating that everything from silicon chips, to routers, to hardware could be loaded with logic bombs, Trojan horses, and other forms of malware.
"Every major company in the United States has already been penetrated by China," Clarke told Smithsonian Magazine.
"My greatest fear," he continued, "is that, rather than having a cyber-Pearl Harbor event, we will instead have this death of a thousand cuts. Where we lose our competitiveness by having all of our research and development stolen by the Chinese.
"And we never really see the single event that makes us do something about it. That it's always just below our pain threshold. That company after company in the United States spends millions, hundreds of millions, in some cases billions of dollars on R&D and that information goes free to China. … After a while you can't compete," Clarke concluded.
The Epoch Times publishes in 35 countries and in 19 languages. Subscribe to our e-newsletter.

Click www.ept.ms/ccp-crisis to read about the most recent developments in the ongoing crisis within the Chinese communist regime. In this special topic, we provide readers with the necessary context to understand the situation. Get the RSS feed. Get the new interactive Timeline of Events. Who are the Major Players?