The blacklist of trademarks using names of Chinese Communist Party (CCP) officials has been expanded again following a rejection of the "Chunhua" trademark, owing to its association with Chinese Vice Premier Hu Chunhua.
A "Notice of Trademark Rejection" issued by China National Intellectual Property Administration (CNIPA) has been circulating on the internet lately, catalyzed by CNIPA's decision to turn down the trademark request applied by a company named Chunhua on June 29, 2020.
The official reason for the trademark's denial, as outlined by the Notice, was that the company's logo contained the word, "Chunhua," and "Hu Chunhua" was an incumbent member of the Politiburo of the CCP Central Committee and a vice premier of the State Council. Accordingly, its use as a trademark was, "likely to produce adverse social influence."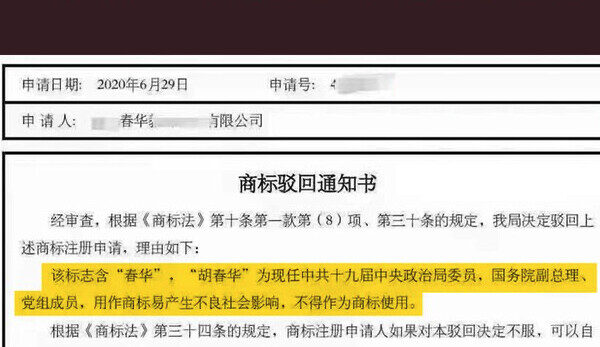 China's Trademark Law doesn't rule that the state leaders and senior officials' names cannot be used as trademark. But a Chinese court announced the rules when it judged similar cases.
Chinese state-run Legal Daily on March 11 quoted Xu Chuanhan, an assistant judge of the Asian Games Village Court of Chaoyang District Court in Beijing, that the prohibition against the commercial use of a name should satisfy two points: The specific name should have a certain degree of popularity, be known to the relevant public, and be used to refer to the natural person; or the specific name should have a corresponding relationship with the person.
However, "Chunhua" is a very common name in China and no correlation has been established with Hu Chunhua.
Such a strained interpretation of trademark law by government apparatchiks has become a hot topic in the public discourse. Some netizens have wryly commented that parents may have to be very careful when naming their children in the future.
Overseas Chinese media have already mocked the treatment of the name as taboo, lamenting the apparent "sacrosanct" status of all names connected to the CCP leadership.
In general, Chinese leaders' names are censored by the regime's propaganda system, with no negative words allowed to be used in conjunction with the names. To express anger or dissatisfaction with such figures, Chinese people find alternative words and spread them among themselves, which then get banned by Chinese censors.
For example, "Cui" ("翠") is a Chinese character consisting of CCP leader Xi Jinping's surname ("习") and another Chinese character that could mean "death" or "low-ranking soldier." Chinese netizens promoted "QiCui," which means "pray for Cui" on social media in early 2020 to express their anger that Xi didn't do well to control the CCP virus, commonly known as the novel coronavirus, and allowed the virus to spread all around China.
Cui then became a sensitive word in China, with any "Cui" combined with Xi-related characters being censored on Chinese social media platforms. For example, a blogger named "Cui Dada" was deleted, along with all his posts online, because Chinese people call Xi "Dada" as a nickname.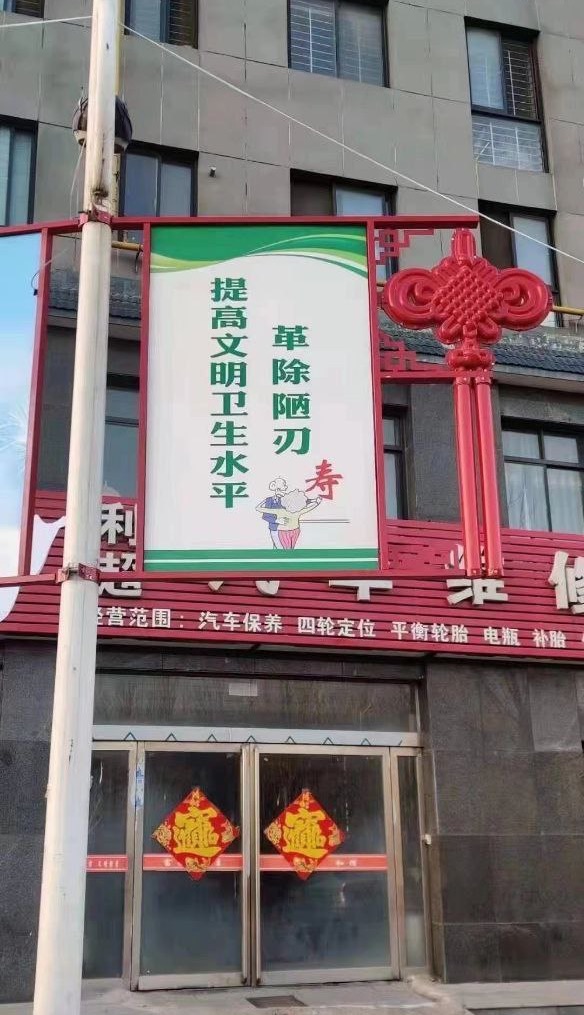 The absurdity of this culture of doublespeak culminated during the 2021 Chinese New Year, when Chinese people changed "eradicating bad habits"—"habits" (习) being Xi's surname—into "eradicating bad blades (刃)" on a street sign to avoid a possible punishment.