Chinese Regime Cracks Down on Tibetans After Self-Immolations
August 16, 2012 3:24 pm Last Updated: October 1, 2015 12:36 pm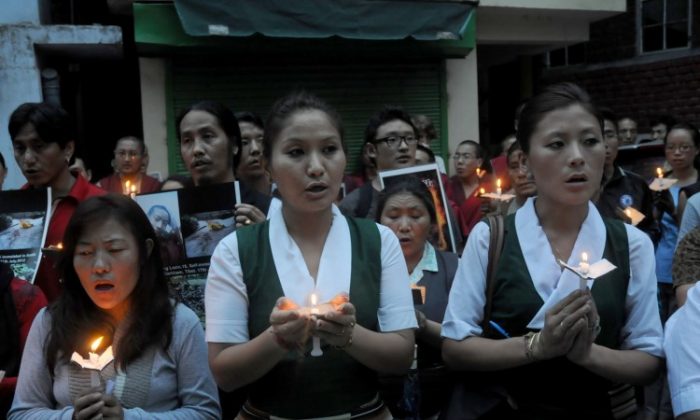 China's crackdown on Tibetans escalated this week in Sichuan Province after three more self-immolations, with reports of beatings and senior Tibetan monks being summoned by Chinese Communist Party (CCP) authorities for questioning.
Several Tibetans in Sichuan Province were "severely beaten by armed police" with one man suffering severe head injuries, following two self-immolations on August 13 and one on August 10, the International Campaign for Tibet (ICT) said on their website on Aug. 15. 
"Local people who gathered at the scene of the self-immolations, shouting slogans of protest, were confronted by police carrying sticks studded with nails," ICT said, citing Kanyag Tsering and Lobsang Yeshe, two exiled monks from Dharamsala, India.
After arriving on the scene armed with their spiked clubs, police then indiscriminately beat protesters and made arrests.
"One person was covered in blood after being hit in the head with the spiked clubs, but nothing more is known of his situation. Security forces were then deployed throughout the county town in large numbers," the monks told ICT.
The two Tibetans who set themselves on fire on Aug. 13 near Kirti monastery, were identified as 21-year old former monk Tashi and a Tibetan monk by the name of Lungtok, aged about 20. After they set themselves on fire, they walked down Ngaba Street, which has been dubbed "Heroes Road." Both men were taken to hospital with severe burns. According to the ICT report, Lungtok has passed away.
At the Kirti monastery, CCP authorities summoned two senior monks after the fresh self-immolation incidents. Since 2009, approximately four dozen Tibetans have set themselves alight to protest against what they describe as harsh Chinese repression of their culture and religion.
"The disciplinarian in charge and the head of religious affairs at Kirti monastery have been called in for meetings at the Ngaba county center several times," Tsering and Yeshe, in a joint statement, told Radio Free Asia (RFA). They said that authorities harass top Tibetan monks whenever there is unrest or a self-immolation.
According to the two monks, this time, CCP authorities will try to exert more control over monks at Kirti monastery.
"To express their solidarity with the two self-immolators of August 13 and to console family members, all shops, hotels, and restaurants owned by Tibetans remained closed on August 14 in Ngaba town," they told RFA.
"Many Tibetans also visited monasteries to make offerings and pray for the dead protesters," the monks said.
The Epoch Times publishes in 35 countries and in 19 languages. Subscribe to our e-newsletter.  
Click www.ept.ms/ccp-crisis to read about the most recent developments in the ongoing crisis within the Chinese communist regime. In this special topic, we provide readers with the necessary context to understand the situation. Get the RSS feed. Get the new interactive Timeline of Events. Who are the Major Players?